Yes, Lush cosmetics intended to shade 'Drag Race' star Valentina on its website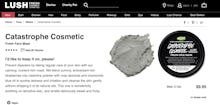 "I'd like to keep it on, please." If you're unfamiliar with the hugely popular TV show RuPaul's Drag Race, that line probably means nothing. But if you are, that line means, well, everything.
Now for some context: During RPDR's latest season, one queen, Valentina, refused to take off a mask she was wearing before she performed a lip sync. By wearing the mask, host and judge RuPaul wouldn't be able to tell if she was indeed lip syncing, and so when Valentina did indeed utter those famed words — "I'd like to keep it on, please" — and refused Ru's request, #MaskGate was born.
Then (spoiler alert) Valentina was eliminated from the show, sending shockwaves across the world of Drag Race's vocal fandom.
So isn't it funny that months after that moment, the line "I'd like to keep it on, please" shows up on Lush's website, advertising a mask?
Head on over to their site now and the "Catastrophe Cosmetic" mask has that tagline: "I'd like to keep it on, please!"
Drag Race fans have been losing their shit ever since, so we decided to get to the bottom of it.
Was this line an intentional Drag Race reference? Was this a happy, quirky little coincidence? According to a spokesperson from Lush U.K., where this line originated, of course it wasn't an accident.
"Lush and Drag Race?" a Lush U.K. spokesperson wrote in an email to Mic. "Come on, you can imagine how many of us are fans! But by far the biggest fanboy is JigglyPaul (occasionally known as Hairy Poppins), our global product editor. Leaving him alone in the back end of our website late one night, updating product pages and watching Drag Race, we might have guessed that he'd slip in some references. It isn't the only one he's smuggled in there — but it is the one that has been spotted so far."
So there you go. Lush just has some witty and pop culture-obsessed people on their staff. Never thought we'd say this, but God bless ya, JigglyPaul.