What to watch when you're not watching 'Game of Thrones'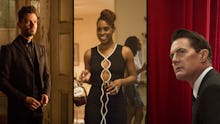 Have you heard? Game of Thrones has returned for its penultimate season of political scheming, unrepentant violence and, of course, beautifully rendered CGI dragons. Even if you weren't among the 16 million viewers that tuned in for the season seven premiere through HBO, or the 90 million that pirated the same episode, the show has become such a part of the cultural zeitgeist that you'd be hard-pressed to find people not chatting about Thrones.
It seems like HBO's fantasy behemoth is the only television worth talking about this summer — at least until The Defenders comes out in August. In fact, my colleague Kevin O'Keeffe pointed out this disparity earlier in the season, ahead of Thrones' premiere. Summer TV has largely felt like a wasteland in 2017, especially compared to the summers of 2015 and 2016, which featured the buzzy debuts of Mr. Robot, Unreal and Stranger Things. Funnily enough, the biggest show of this summer isn't even widely associated with this time of year: Thrones was a spring show up until this year, when production was delayed as they literally had to wait for winter to arrive at some of their locales.
But one show can only sustain so much of the cultural conversation. So, if you need something to tune into when you're not monitoring the realm, here are seven shows that maybe aren't generating as much hype as Thrones, but are still worth checking out:
The Bold Type
This new series from Freeform is set at a fictitious women's magazine, Scarlet, that shares a lot of its DNA with Cosmopolitan. (Worth noting: The Bold Type's executive producer, Joanna Coles, is Cosmo's former editor in chief.) The central women of The Bold Type are young, college-educated millennials who clash with the old editorial guard about what a women's magazine should be covering today; the lead characters would like to see more politics and less sex.
As Mic recently noted, the show has an ultra-enlightened tone, and acts as a sort of "litmus test" for viewers' feelings on wokeness: "If you can look at it without getting swallowed up by all the meta elements, it's remarkably watchable."
Twin Peaks: The Return
David Lynch's cult revival has a few things working against it: For one thing, Twin Peaks: The Return had a surprisigly tepid premiere ratings-wise on Showtime, despite the increased number of subscribers to its streaming service. Secondly, it's currently airing at the same time as Thrones (though that will change with the return of Ray Donovan on Aug. 6, whereupon Twin Peaks: The Return will have an 8 p.m. Eastern broadcast time). Even as a critic, since both shows don't provide screeners to press, I am obligated to prioritize the exceedingly more popular Thrones.
But The Return is, quite simply, an otherworldly masterpiece that defies expectations. Lynch's series has evolved from its original two-season run, the influence of which can still be felt across the ever-expanding television landscape (particularly in shows like The Leftovers, The Young Pope, American Gods and Atlanta); it's now something that's somehow more surreal, strange and haunting. It isn't hyperbole to call The Return unlike anything else ever seen on television — it stands on its own, at the highest peak of Peak TV.
Glow
Netflix's latest critical hit, Glow, which debuted in June, is an introduction to the real-life women's wrestling league from the 1980s. The series, though not helmed by Orange Is the New Black creator Jenji Kohan (she's an executive producer), employs a Kohan-esque approach with women finding agency in their lives — both inside and outside the ring.
Alison Brie shines as Ruth (and, in the ring, as a Russian heel named Zoya the Destroya), and underwent an impressive physical transformation for the role. Glow's breakout star, however, is Debbie Eagan, played by Betty Gilpin. Debbie not only overcomes overt sexism from the wrestling league's director (a terrifically awful Marc Maron), but discovers that being the face of the Gorgeous Ladies of Wrestling gives her a fulfilling sense of empowerment she thought she lost after becoming a mother. If you haven't burned through this show already, what are you waiting for?
Preacher
AMC's supernatural series disappointed in its first season, spending all its time in the titular preacher's hometown, which quickly wore thin. But Preacher hits the road in season two, and transforms from a quirky slow-burn drama to an off-the-wall, chaotic shitstorm.
At its heart, Preacher is a savage satire of Christianity and all things Americana, but it's still enjoyable even if you don't dig into the subtext. This is a show with a cowboy from hell equipped with exploding tracer shells, an Irish vampire who's convinced foreskin is a key ingredient in face creams and Hitler getting bullied in hell. Sit back and enjoy.
Zoo
If any of the aforementioned shows seem daunting in that they exhibit some semblance of coherence, I humbly present CBS's Zoo. Based on a James Patterson book (so you know we're already off to a good start), Zoo introduces a world where animals have risen up against mankind.
It is the apex of so-bad-it's-good television. In season three, animal hybrids have taken over the West Coast, and one of the characters — who starts out as a blogger in season one and inexplicably becomes a billionaire writer — is fighting crime vigilante style. In season two, James Wolk, aka Bob Benson from Mad Men, slaps someone and says, with a straight face, "Where's the sloth?" If Twin Peaks is atop the highest point of Peak TV, Zoo is trapped at sea level, and it's slowly sinking into the Earth's core. It's remarkable.
Insecure
Issa Rae's Insecure might not garner the same Emmys attention as HBO's other hit comedies like Veep and Silicon Valley, but it deserves its place among the network's pantheon of great shows. Insecure airs half an hour after Thrones (Entourage knockoff Ballers falls in the middle) and season two is definitely worth sticking around for, as Mic's Erin Evans raved:
'Insecure' returns fresher and more energized this season, but its characters remain personable and the situations still feel very real. The show continues to reel its audience in by going deeper and becoming more familiar, just like any great relationship.
Halt and Catch Fire
This one's a bit of a cheat; the AMC series doesn't come back on the air until Aug. 19. But the first three seasons of this tragically unseen show are available to binge on Netflix — and they should be at the top of your queue.
Halt and Catch Fire is essentially Mad Men meets the 1980s tech world, with a mishmash of conflated egos trying to usher humanity into the digital age — even if we're not ready for it yet. The upcoming fourth season will be the show's last, which means the series will end on its own terms, a minor miracle in and of itself. This show has been kept alive by the grace of AMC and the rapturous praise of critics; the least everyone else can do is give it a chance.
Mic has ongoing TV coverage. Follow our main TV hub here.