This transgender liberation rally reminds us that #TransLivesMatter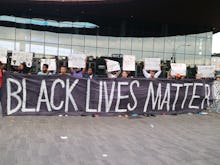 Dozens of transgender activists and their supporters gathered Tuesday at the Barclays Center in Brooklyn, New York, for the second annual "Trans Liberation Tuesday" rally. The call-to-action centered on the voices of black transgender women and offered an opportunity for them to share their stories.
The action was organized by the Black Excellence Collective, which was co-founded by Joshua Allen and CeCe McDonald — who are trans and gender nonconforming, respectively — and was created to highlight the epidemic of violence against trans women of color. So far in 2017, 15 trans women have been killed, the majority of them women of color.
Nine transgender and gender nonconforming people shared everything from spoken word to passionate speeches about their experiences.
"This is our way of standing up and fighting back," Allen said. "And the goal of today was really a call of action to be able to speak to and uplift and empower the experiences of those who are living, and to honor those who we have lost so far."
Here are just a few of those moments and images.
Cisgender men and women — individuals who identify with their assigned gender at birth — held signs in solidarity throughout the entire two-hour event. Aaryn Lang, a black trans woman and one of the rally's main speakers, said the decision to have only cis people holding signs was to signify the weight trans women carry every day.
"I hope you go home and remember that burn," Lang said to sign-holders during the rally. "Because [trans women] can never put it down and rest."
McDonald knows firsthand the violence transgender women often face. Five years ago, she was attacked by a group of men and, after defending herself, was charged with second-degree manslaughter. Now she calls herself an activist.
"Every day that I walk up outside of my house, I have to recognize that not only am I trans, but I am black," McDonald said during her speech. "And I could be shot dead by cops. Or I could be shot dead by my neighbor."
There were also moments of celebration. Toward the end of the rally, trans singer Shea Diamond serenaded the crowd with an a cappella version of her song "I Am Her."
As mentioned by both Lang and McDonald during their speeches, the fight for trans equality is far from over. With Trump's recent tweets banning transgender people from serving in the military, the women in attendance know their work is especially important now.
"The progress we had is now in jeopardy; all of it," trans activist Ceyenne Doroshow said in a phone interview after Trump's tweets Wednesday. "If [a trans woman] is really willing to fight for her country, then so be it. Let her."
Other members of the LGBTQ communities are also lauding this moment as the time to rally, pointing out that although marriage equality is now law, that doesn't mean the fight is over. In a panel held by Purpose on Thursday, LGBTQ activist Skye O'Neal Adrian spoke on the issue.
"You always have to be advocating for who you are," he said. "Now you can't even fight in the military for your own country."