Let's overanalyze these 'Game of Thrones' photos from "The Queen's Justice"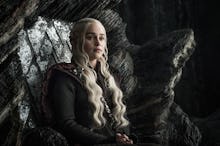 After kicking off its penultimate season with two stellar episodes, Game of Thrones has us eagerly anticipating the ominously titled third installment, "The Queen's Justice," on Sunday night. The title likely relates to Euron Greyjoy's recent capture of Ellaria Sand, her daughter Tyene and perhaps even Yara Greyjoy — basically, everyone who survived Euron's raid except for Theon Greyjoy, who can only hope Gendry is somehow still rowing near Dragonstone after several years offscreen. (His arms would, no doubt, be the size of tree trunks.)
HBO released eight photos from the upcoming episode Wednesday, though none of them appear to be set in King's Landing, where Euron should present his "gift." Still, the photos tease one of the most highly anticipated meetings in Westeros: Jon Snow and Daenerys Targaryen. They seem like the ideal couple, other than the fact they're actually related. Actually, scratch that — it's Thrones, where the preeminent romantic relationship (Jaime and Cersei Lannister) is incestuous. They're perfect for each other.
Anyways, let's take a gander at these photos and see if we can find any juicy details ahead of Sunday.
Littlefinger's smiling, Sansa is not
Now that Jon Snow's heading south to Dragonstone, Sansa Stark is officially in charge of Winterfell (the Queen in the North!). Sansa seems like she'd be a capable, realistic ruler; she's learned a great deal from her time in King's Landing. The big question mark is Littlefinger — and just how much influence he has over her.
She seems fully aware of his intentions — and Jon just choked him last episode next to a statue of Ned Stark, who also choked him once in season one — but still, his presence alone is a tad foreboding.
Dany's got a knockoff Iron Throne
Dany's got a throne room for herself at Dragonstone, which has its own Targaryen history. Obviously, that's not the throne she really craves, but a potential alliance with Jon Snow could help her take over Westeros sooner rather than later.
Presumably, this scene could set up their highly anticipated face-to-face meeting, which was teased in the episode preview.
Tyrion's outside, probably waiting for a certain someone to arrive
It looks like Tyrion's on the beaches at Dragonstone, most likely waiting for Ser Davos and Jon Snow to arrive and meet with Daenerys.
It's kinda cute, since Tyrion and Jon became quick pals on their journey to Castle Black all the way back in season one. Who would've imagined Jon and Tyrion would become King in the North and Hand of the Queen to Daenerys, respectively?
Greyworm's ready for battle
Greyworm was one half of Thrones' first feminist sex scene with Missandei, and that emotional moment was prompted by the fact that Greyworm is soon leaving Dragonstone.
The Unsullied and Dothraki are heading to Casterly Rock, aka the Lannister home base. Since Greyworm is donning armor in this scene, I'd imagine Euron's attack on the Greyjoy/Dornish fleet won't stop this part of Dany's plan.
Jon and Ser Davos arrive in Dragonstone, presumably via water Uber
Jon, Ser Davos and a few Stark soldiers appear to have arrived in Dragonstone. That's a pretty quick trip from Winterfell, considering the show's previous pace would've had this journey take at least half a season.
That's not a complaint — I'm glad Thrones is picking up the pace with only a handful of episodes to go.
The former Master of Whisperers is doing what he does best
There's one of two things happening here: Varys is imparting some wisdom to Daenerys, perhaps disclosing something that's best not said in public, especially if Jon Snow is already in the room.
Alternatively, everyone is getting really bored at Dragonstone, so they're playing a game of Telephone as a team-building exercise — or as an ice-breaker for Jon and Ser Davos.
Varys and Melisandre have a chat
Varys and Melisandre are having a chat here, which could actually be quite interesting. They're on two very different ends of the spectrum. Melisandre is a follower of the Lord of Light and helped bring Jon Snow back to life. Plus, there's the whole smoke baby thing.
Varys, meanwhile, isn't a fan of religious zealots and magic, considering someone mutilated him as a child as part of an arcane ritual. In other words, they don't have a lot in common — aside from, ostensibly, being allied with Daenerys.
Jon's probably looking at his aunt
This is, most likely, the moment where Jon sees Dany for the first time. I have nothing more to say. It's going to be epic.
The seventh season of Game of Thrones airs Sundays at 9 p.m. Eastern time on HBO.
Mic has ongoing coverage of Game of Thrones. Please follow our main Game of Thrones hub here.