Is 'Destiny' still worth playing or should I wait for 'Destiny 2'?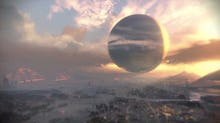 The Destiny 2 beta has ended, and it's left quite a few gamers thirsty for more action. The logical choice for players who are craving more of Bungie's first-person shooter MMO would be to play the original Destiny. However, the first game has a bit of a reputation for lack of plot and approachability, so it's worth questioning, "Is Destiny still worth playing?"
There are arguments to be made for both sides of the coin. Below we've collected an overview of arguments as to why it's a perfect time to play Destiny, and also why it's best to just wait for Destiny 2.
Reasons to skip Destiny and wait for Destiny 2
1. If you own Destiny and the first three expansions
If you own the Destiny base game and any or all of the first three expansions, you'll need to decide whether you want to make a further investment for Rise of Iron. Destiny debuted at $60 and the first and second expansions, The Dark Below and House of Wolves, cost $20 apiece or $35 for both.
The third reasons, The Taken King had an MSRP of $40 when it came out, and the last one, Rise of Iron costs $30. So if you're a die-hard Destiny fan and bought each expansion as they came out, you'd be over $160 in the hole right now. Right now you won't have to pay anywhere near that much. You can get Destiny and all the expansions in Destiny — The Collection for $39.99, and you can likely find it on sale somewhere for even less.
However, purchasing Destiny — The Collection means you'll be buying whatever parts of Destiny you own for a second time. If you've already bought Destiny before, unless you're dying to get back in, it might not be worth it to you to pay to play again.
2. If you're not that into Player-vs.-Enemy gameplay
Destiny is at the end of its development cycle, which means that those who have been playing it religiously already know all the best items and abilities, and are well practiced when it comes to Player-vs.-Player gameplay in the Crucible. Sure, you can spend the time grinding for items and leveling to match them, but with Destiny 2 so close, the time investment isn't really worth it.
However, even if PvP has a big bar for entry, PvE doesn't. First time and returning players are going to find the most fun in playing through the PvE content and learning the lore behind the game. If you're not into single or co-op action against AI enemies and long for the challenge of fighting other player-controlled characters, then you're probably best off waiting for Destiny 2.
3. You want to play by yourself
It doesn't take much to mistake Destiny as being an exploration- and gear-driven FPS/RPG, but at its core, it has more in common with games like World of Warcraft than with Borderlands. Destiny is meant to be experienced with others, and if you're starting the game for the first time or returning after a long hiatus, you really need a friend to keep you going.
Pairing up with a long-time player can make your time in Destiny easier. But to experience the game best, you need to start with someone who also hasn't played the game before, or at least in a long time. That way you can get the sense of discovery and accomplishment that serves as the reward for playing the game. Destiny in its current state is firmly focused on the endgame experience. Getting to that point can be a slog, but a good friend can be the difference between wanting to quit playing or having the time of your life.
Reasons to play Destiny before Destiny 2 comes out
1. To experience the lore leading up to the second game
Destiny is often criticized for lacking in story content. However, Bungie has stated the second game will have a much larger focus on plot development. Even though Destiny 2 begins with what is basically a reboot of the world as it was in the first game, you can bet there are going to be plenty of throwbacks to events, lore and characters from the original.
Also, you're going to miss out on all of the little easter eggs and secrets referring to Destiny if you don't give it a shot before you play Destiny 2.
2. To port your character over
Destiny players are going to get an opportunity to bring their characters over to Destiny 2. They'll receive a full level wipe of course, but this transfer will give you a chance to continue your story. We all like to feel attached to our in-game avatars, and now is the time to go through Destiny and port a character. Bungie is bound to shut down the Destiny servers at some point, and it's better to take the time to go through the original game before it's too late.
So should I play Destiny before Destiny 2 or not?
Regardless of which side of the argument you're on, it's never been cheaper to get your hands on Destiny and its expansions. If you want to experience what it's like to play endgame content immediately, you'll automatically get an item, the Spark of Light, that takes you to level 40, waiting for you at the Postmaster at the Tower.
However, if you want to play Destiny the way it's meant to be, grab a friend and start from level one and play through without using any boosters. You'll get the best material from each expansion, and when you're done, you'll be able to say you're a Destiny veteran. If you prefer going it alone though, it might be best to skip Destiny and wait to see if Destiny 2 is a better fit for you.
More Destiny 2 news and updates
If you can't wait to get back out on patrol with your Fireteam, check out the rest of our coverage for Destiny 2. We've got coverage about why Bungie opted not to use dedicated servers for the sequel, why there won't be cross-play and cross-saves for PC and what you can expect from the game's PC specs and Battle.net partnership. Additionally, you can check out the new Supers being added to the game, some details behind guided games and the new Crucible changes as well. Finally, you can check out our ongoing coverage of the beta here.