Undocumented immigrant activists arrested fighting attempts to repeal DACA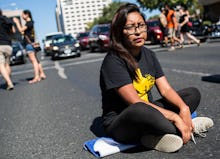 On Wednesday, four undocumented immigrant protesters and 11 citizen allies were arrested in Austin, Texas, after protesting the state's attempt to force the Trump administration to end the Deferred Action for Childhood Arrival program, or DACA, according to organizers.
"With DACA under threat, we know that some will put their hope in D.C. politicians," said Maria Fernanda Cabello, a DACA recipient and spokesperson for the group Movimiento Cosecha that organized the protest. "But we also know that we won DACA not because of any politician, but because our community took fearless action. "
DACA is the result of an executive order signed by former President Barack Obama, after years of direct action by undocumented immigrant activists. The order allowing undocumented immigrants who arrived in the United States as children to apply for legal status in the U.S.
President Donald Trump vowed to undo DACA during the 2016 presidential campaign but reversed that position when he became president.
Now Texas Attorney General Ken Paxton is leading officials from nine other states in a standoff with the federal government over DACA. They claim that, if DACA is not rescinded, they will sue the federal government and force the Trump administration to defend it in court.
The protests in the Texas state capital on Wednesday were meant to send a message to Paxton and the Texas state government. The city of Austin has declared itself a sanctuary city, meaning its police are not supposed to coordinate with immigration officials when undocumented people are taken into custody.
But Texas's state legislature passed a law to override Austin's sanctuary city status and compel local law enforcement to cooperate with ICE. Austin, along with the city of San Antonio are currently suing the state government over the law.
"This is, as far as I know, the first civil disobedience involving DACA," 27-year-old DACA recipient Catalina Adorno said prior to the protest. Catalina was one of the four undocumented people arrested during the action. "The action that we're taking today will test whether or not Austin really is a sanctuary city or if it's just a nice thing to say."
Protesters are not taking anything for granted. Organizers said that the 11 citizen protesters who were arrested on Wednesday plan to sit-in at the police station until they can confirm that all four undocumented protesters have not been taken into custody by Immigration and Customs Enforcement.