The White House is leaving everyone in the dark as to how its transgender military ban will work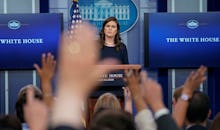 For those looking for details about President Donald Trump's surprise ban on transgender people serving in the military, the Brady Briefing Room was decidedly not the place to be Wednesday afternoon.
White House press secretary Sarah Huckabee Sanders fielded a flurry of questions about the new policy the president dropped on Twitter, but didn't provide specifics about how and when it would be carried out.
"That's something that the Department of Defense and the White House will have to work together as implementation takes place and is done so lawfully," Sanders said.
Asked if this could even mean service members stationed overseas might be pulled from the ranks and sent home, Sanders took another pass. She also sought to shift the burden of updates to the Defense Department.
"Again, the implementation policy is going to be something that the White House and the Department of Defense have to work together to lawfully determine," she said. "I would imagine the Department of Defense will be the lead on that and keep you posted as that takes place."
Sanders said top officials on Trump's national security team were informed of the decision as soon as he made it. Earlier, the Pentagon had directed questions about the ban, which has been roundly condemned, to the White House.
The briefing questions kept coming to the degree that at one point, Sanders suggested she'd "call it a day" if there were no other topics of interest.
Sanders repeatedly insisted Trump had made the call based solely on the grounds of "military readiness" — and that his decision did not constitute a betrayal of his repeated campaign promises to stand with the LGBT community, saying:
The president has expressed concern since this Obama policy came into effect, but he's also voiced that this is a very expensive and disruptive policy, and based on consultation that he's had with his national security team, came to the conclusion that it erodes military readiness and unit cohesion and made the decision based on that.
Sanders — elevated to press secretary in a recent shuffle that saw the hiring of White House communications director Anthony Scaramucci and the resignation of Sanders' predecessor, Sean Spicer — opened the session on a lighter note.
She kidded that Scaramucci might be disappointed he couldn't make the briefing, but "since he did some TV this morning, he was able to go ahead and get his hair and makeup done, so I think he'll be OK."
Scaramucci gave Sanders the thumbs-up on Twitter and poked a little fun of his own:
"Hair and make up is on me going forward as long as you don't take all my hairspray!" he wrote.