Gorgeous photo series shatters stereotypes about what it means to be beautiful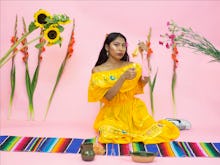 Zuly Garcia is not here for traditional ideas of womanhood. And with her recent photo series "Flores Políticos", she is rewriting what it means to be a woman of color in the United States while also representing her indigenous roots.
After watching her friends struggle with the pressures of European beauty standards, she saw a need to show a different kind of beauty, one that was inclusive to those who looked like her.
A diversity in entertainment study conducted by the University of Southern California found that between 2014 and 2015 just 2% of TV and film speaking characters were coded as lesbian, gay or bisexual, while Latinos made up just 5.8% of speaking or named characters. There were no stats at all on the representation of native peoples, specifically. Garcia hopes her work can be a refreshing counter-narrative to these statistics.
"Highlighting indigenous folks is needed in today's patriarchal society," she said. "There needs to be recognition/support for those beautiful underestimated souls who are pushed into the shadows."
So Garcia used photography to express her views on the issue. This is what she created.
"I just decided that my project would highlight all of those women that feel that way by having it dismantle European beauty standards," she said.
To bring this point home, she chose to include ripped and burned barbie dolls in the series. Barbies, while routinely criticized, are in many ways the ultimate symbol of femininity (a term Garcia notes is just a social construct). She wanted the project's physical distortion of the dolls to represent a doing away with traditional conceptions of beauty.
One such rejection of tradition was the expectations placed on women's bodies. In one of the photo's captions she mentions how the Slumber Party Barbie, released in 1965, came with a plastic pink scale, a book on how to loose weight, and miniature diet pills.
So when one of Garcia's models came to the shoot explaining how Flamin' Hot Cheetos are a part of who she is, despite the shame she gets for eating them, Garcia was "all in" to incorporate them into the shoot. With Flaming Hots and with indigenous flowers — Garcia chose to honor the model's body as is, Cheetos and all.
"I wanted it to say 'I love dismantling beauty standards but I also love my body,'" she says.
The series goes beyond just the idea of the body and also expresses Garcia's articulation of feminism. Because she is Oaxaqueña — part of a group of indigenous people from what is now the state of Oaxaca, Mexico — she wanted this project to show feminism and indigineity existing together.
"I feel like the feminism movement brings many interesting issues to the table but it would be nice for once to see a part of feminism that you can relate to," she said. "The type of feminism that comes from indigenous folk for indigenous folks."
"When I flip through magazines I don't see Oaxaqueñas," she said. "It's such a difficult era that we're in, where we kinda push them aside to the shadows."
As a result she chose to include details and signifiers that were native to Oaxaca. A couple of models don Oaxaqueño shirts, the background is decorated with native flowers and each shot includes authentic Mexican cloth. According to Garcia, she made these decisions so that others like her could actually imagine themselves broadly represented.
On Saturday Garcia will show her work in an art show organized by Galchemism, a collective built buy and for women of color artists. She hopes her work will both break stereotypes and give representation to a wider idea of indigenous womanhood.
"I'm doing this by the people and for the people," she said.