SNES Classic Walmart pre-orders canceled because Super Nintendo Mini listing went live by mistake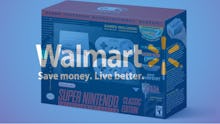 The SNES Classic Edition went live for pre-order last Friday on Walmart's website — at least, that's how it appeared. There were the usual issues with small numbers of order cancellations being reported on social media when a product as popular as the SNES Mini goes on sale; that's to be expected. After almost a week, however, we figured that the rumors that the listing went up by mistake were false.
SNES Classic Walmart pre-orders: Cancellation emails being sent out from Customer Care
Unfortunately, on Wednesday, many of those who ordered the SNES Classic received an email addressed from Walmart signed by Deserie Dulaney, senior director of customer care, stating the following:
Hi (Customer Name),
Thank you for your interest in the Super Nintendo Entertainment System – Classic Edition. As you are aware, this is a highly sought after console that will launch later this fall.
Unfortunately, due to a technical glitch, the Super Nintendo Classic Edition was mistakenly made available last Friday evening ahead of the official release date. We, regrettably, will have to cancel this item on your order. We know that this is incredibly disappointing to you, and we're truly sorry for this mistake.
In regards to the cancellation of this item, if you paid by credit card, your card has not been charged. Any authorization holds placed on your account will automatically expire in accordance with the card issuer's policy. If you paid through PayPal or with a gift card, your payment will be refunded when the order is cancelled.
The official launch date for this item is 9/29, please check the product page on Walmart.com prior to that date for any updates.
I do hope you'll give us another chance to earn back your business.
Warm regards,
Deserie Dulaney
Sr. Director Customer Care
Walmart.com
Mic spoke to a few individuals that received this email, all of whom said their order still appeared to be active on Walmart's website. So it seems like the email is a warning of an impending wave of cancellations, as opposed to notice that an order has already been canceled.
SNES Classic Walmart pre-orders: When will the Super Nintendo Mini actually be available?
Walmart has declined to reveal anything other than the fact that the listing went up early, and hasn't even made a statement on whether all the pre-orders are being canceled or not. We're not sure when pre-orders will be available again at Walmart for the SNES Classic. Though given how the company is handling this right now, it might not be worth the hassle of trying to purchase through them again anyway. Instead, it might be best to wait for Target or another retailer to set their pre-orders live.
For now, I haven't personally received the email quoted above or any other cancellation notice regarding my pre-order. Whether the SNES Classic pre-orders will be canceled all at once or a few customers at a time remains to be announced or seen. We'll just have to hang tight to see exactly what the conclusion to this escapade will be. Keep an eye on Twitter #SNESClassic to see the full scale of the situation.
More Nintendo news and coverage
Looking for more Nintendo Switch news? Check out how blind gamers are using the Nintendo Switch. Nintendo's left Joy-Con issue turns out to be a hardware problem — here's how to solve it. Find out how to buy a console amidst the recent restock. Learn why the Switch cartridges taste so bad. Check out our comparison photos sizing up the Switch to the Wii U GamePad (part one and part two), or find out how to make use of ethernet without the dock and the best way to get alerts when new stock arrives