'Dream Daddy' just ended 'Overwatch's 9-month reign as Tumblr's most popular video game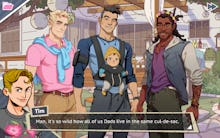 Move aside, Overwatch — there's a new sheriff in town, and it's a hunky dude named Dream Daddy.
According to Tumblr's Fandometrics page, which tracks engagement data related to various fandoms, Dream Daddy was the most popular video game across all of Tumblr — the home of a hugely passionate gaming fandom — for the week ending on Monday.
That might not necessarily sound like a big deal, but it is. Until now, Blizzard's multiplayer shooter Overwatch held the number-one slot uninterrupted since Oct. 17, according to Tumblr's senior content insights manager Amanda Brennan.
It's not as though Dream Daddy is some kind of fringe hit within the gaming sphere, either. The tag "dream daddy" had the second-highest trending score — a metric that encompasses likes, reblogs, searches and posts containing that tag — across the whole site, second only to "GIF."
The gulf in interest between Dream Daddy and Overwatch was pretty massive, too. According to Brennan, Dream Daddy had 59% more total engagements than Overwatch last week.
So, what's the reason for this massive interest in a game about dads dating other dads? Wait, no, I guess that sentence basically sums it up.
"I think the conversation just exploded because the game feels so Tumblr itself," Brennan said in a phone interview. "The creators [Leighton Gray and Vernon Shaw] are both on Tumblr and they speak the language of the community. They understand the community's wants and needs."
Brennan's right. Queer fan-fiction content finds more popularity with the gaming fandom on Tumblr than the gaming community at large, broadly speaking. So, it makes sense that Dream Daddy would resonate with those particular people so strongly.
In terms of exactly what Dream Daddy players are sharing on Tumblr so feverishly, it runs the gamut. A lot of it is fan art, like this illustration of the Dream Daddy character Mat:
But some posts are more Twitter-like reactions to the game itself:
It's not clear yet whether Dream Daddy will have the legs to outpace Overwatch for very long, but it's always fun to see a David knock down its Goliath.
More gaming news and updates
For more on Overwatch, check out the rest of what Mic has to offer. Here is an intro to the cute, new "Wholesome Overwatch" subreddit, a look at some gorgeous Overwatch-themed PS4 and Xbox One controllers, a cool Easter Egg in the new Horizon Lunar Colony map and a criticism of Blizzard's failures in its design of Symmetra.