Hundreds rally in Times Square to protest Donald Trump's transgender military ban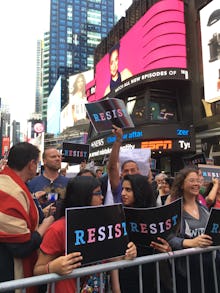 On Wednesday, President Donald Trump surprised the nation and announced he is banning transgender individuals from serving in the military "in any capacity."
Since the announcement little more has been revealed about why the decision was made, how it will be implemented or if it is even legal.
Moreover, the decision to ban transgender individuals from service was met with immediate and sharp criticism, including denouncements from several Republicans.
On Wednesday evening, hundreds of people descended on Times Square in New York City to protest the ban and let their opinions be known.
"I'm out here to support my trans brothers and sisters who have been serving our military for years and years and years," protester Fred Anguera said. "Now, in this day and age, as our knowledge of humanity has expanded, they are serving openly and now they're being denied that right."
"I am a straight female. I have a relatives who are gay. And I'm seeing a bully trying to divide our troops and to put a target on the back of everybody that's transgender in our city and in the military now," Marisa Redanty, who is currently running for District Leader in Hell's Kitchen, said. "This man is a danger to our country and I'm so angry that I ended up grabbing a clipboard, like Obama said, to run for something because we've got to stop him at the local level. It broke my heart what happened today. Broke my heart."
Stacey Leasca contributed to this report.