HBO programming president defends 'Confederate,' says network is "standing by" the writers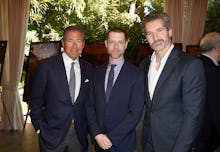 LOS ANGELES — When it was first announced in a bombshell press release on July 19, HBO's new series Confederate caused a backlash with just a logline. Game of Thrones production pair D.B. Weiss and David Benioff's upcoming series, which imagines a world where the Confederacy didn't lose the Civil War, inspired mostly eye-rolls and annoyance from columnists everywhere at publications like the New York Times and Teen Vogue. The Daily Beast's headline summed up the reaction: "The Game of Thrones Creators' Next Show Sounds Stupid as Hell."
It took a high-profile Vulture interview with Weiss and Benioff, as well as their writing partners Nichelle Tramble Spellman and Malcolm Spellman, to quell the backlash. But come HBO's Television Critics Association summer press tour panel Wednesday, Confederate was the most popular subject among TV reporters present, inspiring no fewer than five questions. (True Detective, by comparison, inspired only two.)
HBO programming president Casey Bloys defended the show and its team, saying there is "a long history at HBO of betting on our talent" and that the network would be "standing by" the creative team. But he also admitted that relying on a press release to announce the show was not ideal.
"We could've done a better job with the press rollout," Bloys admitted.
Still, despite the PR storm, HBO's hope is that the series will be worth the wait. "If you can get it right, there's a real opportunity to advance the racial discussion in America," Bloys said.
Until then, Bloys is hopeful that the backlash will stay quelled until the show actually airs. He echoed Malcolm Spellman's sentiment — that "you cannot litigate this on Twitter" — by urging patience. "My hope is that people will judge the actual material as opposed to what it could be or should be," Bloys said. "All we can ask is that people judge the product — the final product."
Mic has ongoing TV coverage. Follow our main TV hub.