'Hot Mic' podcast: Transgender ban, GOP healthcare struggling, video games relieve work stress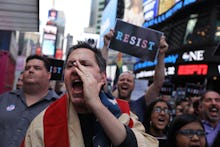 Listen and subscribe to the Hot Mic podcast from your mobile device:
Here are the important stories to know for Thursday, July 27:
1. President Trump announced that the U.S. military would no longer allow transgender people to serve in any capacity.
2. Republicans put forth two amendments to the health care bill and both failed.
3. A recent study suggests that taking a break to play some video games might be one of the best way to relieve stress at work.
Direct from Mic's newsroom, Hot Mic keeps listeners informed with a daily run-down of top stories, breaking news and analysis from our news team.