Ride malfunction at Ohio State Fair leaves 1 dead, 7 injured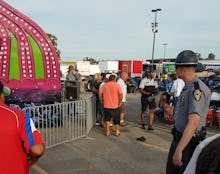 A ride malfunction at the Ohio State Fair left one person dead and seven more injured Wednesday evening in Columbus, Ohio. Two of the people injured in the incident remain in critical condition, CNN reported on Thursday.
The incident occurred on the fair's opening day, according to CNN. The ride involved, the Fire Ball, is made up of rows of seats that spin around 40 feet in the air while the entire ride swings back and forth.
The ride reportedly "broke apart" while operating around 7:20 p.m. local time, CNN reported.
One person was killed and several more were injured. Fairgoer Rhonda Burgess told CNN that "the ride had four riders per cart. This piece snapped off and the riders came out of the cart ... At least two (people) flew through the air at least 20 feet before landing on their backs on the concrete."
All of the rides had been inspected before the fair's opening day, officials told CNN, and the Fire Ball hadn't had any issues.
In a news conference, Ohio Gov. John Kasich ordered all fair rides shut down and called for an investigation into the incident.
In a statement, fair officials said "Our hearts are heavy for the families of those involved in last night's tragic accident. We have shut down all rides until the state has inspected each and every ride again and deemed them to be safe."