'Overwatch' Doomfist Release Time: Here's when you can expect the new hero to come out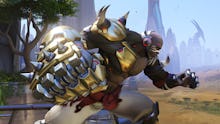 Update: Doomfist is now live on all platforms, right on schedule. It may take a few minutes for the update to show up, but the patch is currently rolling out right now.
It's Doomfist day, y'all. Overwatch's newest hero has technically been teased since the game's very first cinematic trailer, but in just a few hours, he's finally going to make his formal debut as a playable character through a major patch update.
Blizzard hasn't said exactly what time the new update will drop, but if the past few hero releases are any indication, we have a pretty good idea of when to expect him.
Overwatch Doomfist release time: Here's when the update will probably drop
Typically, these big Overwatch updates roll out around 2 p.m. Eastern. That's when Orisa came out, so you can probably expect the same for Doomfist.
It's also important to note that today's patch won't just include Doomfist. It'll also include an update to the loot box system that will drastically reduce the chances of pulling duplicate items.
The new patch will also almost certainly include the balance updates for other heroes that are currently on the PTR, like the change to McCree's flashbang ability and the significant buff to Zarya's ultimate, graviton surge.
We'll update this post as soon as the new patch is available for download.
July 27, 2017, 2:05 p.m.: This story has been updated.
More Overwatch news and updates
For more on Overwatch, check out the rest of what Mic has to offer. Here is an intro to the cute, new "Wholesome Overwatch" subreddit, a look at some gorgeous Overwatch-themed PS4 and Xbox One controllers, a cool Easter egg in the new Horizon Lunar Colony map and a criticism of Blizzard's failures in its design of Symmetra.