4 ways Senate Republicans talk skinny repeal: We're trying to "get to the lowest common denominator"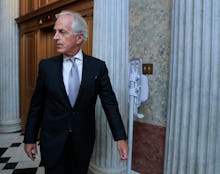 This is Mic's daily read on Donald Trump's America. Welcome to the political newsletter that is on day two of health care death watch.
Want to receive this as a daily email in your inbox? Subscribe here.
What we're watching:
Today: The Republican health care plan remains on the rocks.
More: GOP senators are far from rosy about their party's new approach.
Even more: Trump's Wednesday surprise: a transgender military ban.
Trump's agenda today: Recognizing first responders to the shooting of Rep. Steve Scalise (R-La.).
4 ways Republicans talk about health care reform
The GOP bill to repeal the Affordable Care Act failed on Wednesday. Seven Senate Republicans who voted for the bill in 2015 voted against the legislation this time.
While the failure was expected, it leaves Senate Majority Leader Mitch McConnell (R-Ky.) with a final option: Pass a "skinny repeal" bill on Friday and head to conference with the House.
It remains unclear whether that plan can pass the Senate. Ten Democratic and Republican governors, including from key states like Nevada and Ohio, came out against the plan on Wednesday.
Sen. John Thune (R-S.D.) confirmed that "skinny repeal" legislation would end the individual and employer mandates in the ACA, along with eliminating various taxes. It would not deal with Medicaid or rising premiums on the individual health insurance markets.
That "skinny" plan would still lead to more than 16 million people dropping from the health insurance rolls, while saving the government about $130 billion over a decade.
On Wednesday evening, four senators I spoke with were varying degrees of dismayed over the process. After seven years of promising to repeal and replace Obamacare, Republicans' best shot is to pass a bill that senators say will not become law and is only a stopgap.
Sen. Bill Cassidy (R-La.) articulated the line most common among Senate Republicans: Let's pass something — and we can figure out the rest later.
Passing Friday's bill, he said, "moves the process forward. [But] it's not going to be the final law."
Thune implored Republicans not to let this opportunity pass them by: "There's a big difference between voting on something at the beginning of the process and voting on something at the end of the process — when it's the only train leaving the station."
Sen. Bob Corker (R-Tenn.) admitted the Senate is no longer seeking to pass a major repeal and replace bill, instead seeking the most minimal compromise for Republicans.
"In the Senate thus far, the approach was to be aspirational. ... That would not be the case here. What would be the case here would be to get to the lowest common denominator."
Sen. Susan Collins (R-Maine) summed up how informed senators are about a bill they have not yet seen, which is to say not at all. "Everybody keeps asking me if I'm going to support the 'skinny repeal' amendment, to which I say, 'I have no idea what's going to be in it.'"
Bizarre development: The Senate will vote Thursday on a "Medicare for all" amendment introduced by a Republican. The GOP wants to put Democrats on-record for their support of single payer.
Trump's military transgender ban
With no warning, Trump tweeted out his intention to ban transgender people from serving in the military. The White House did not provide details on what that will mean for transgender Americans seeking to join the military or currently serving.
Republican senators either blasted the move or refused to talk about it. The ban drew protests and legal challenges as people noted the military spends relatively little on health care for transgender service personnel. (For context, there's maybe a few thousand transgender people in the military.)
Trump's announcement came 69 years to the day after the military was desegregated — a fact not lost on civil rights advocates. The first out trans soldier in the military told Mic the president is a "war-dodger."
News and insight you cannot miss:
Trump nominated Kansas Gov. Sam Brownback for ambassador-at-large for religious freedom.
The president's voter integrity commission has again asked states to provide detailed voter data to the federal committee.
Here's a timeline to help you follow the tension between Trump and Attorney General Jeff Sessions. The Washington Post reported Trump has inquired about whether he could remove Sessions in August and appoint an interim attorney general while Congress is in recess.
Centrist Republicans are rising up in the House.