A running list of Republicans opposing Trump's ban on transgender troops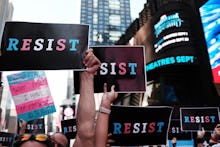 Shortly after President Donald Trump announced in a series of tweets Wednesday a proposal to ban transgender people from serving in the military, some Republicans were quick to distance themselves from the policy.
A handful of GOP lawmakers broke with Trump to criticize the ban, saying anyone capable of serving in the military should be able to do so.
The military's chairman of the joint chiefs of staff said Thursday that for now, there will be no changes made to the policy on transgender troops.
Below is a running list of Republican lawmakers who have publicly denounced the policy. The list will be updated as more GOP members speak out against the ban.
Sen. John McCain (R-Ariz.)
In a statement released Wednesday, Sen. John McCain said anyone who is able and willing to join the military should be allowed to serve, "regardless of their gender identity."
"Any American who meets current medical and readiness standards should be allowed to continue serving," McCain said.
Sen. Thom Tillis (R-N.C.)
Sen. Thom Tillis told Mic in an interview Wednesday that he agrees with McCain, stating that all Americans capable of keeping up with the military's standards should be able to serve.
Additionally, Tillis told the Washington Post he does not agree with any policy calling for the removal of a particular group of troops from service.
"I would have significant objections to any proposal that calls for a specific group of American patriots currently serving in uniform to be removed from the military," Tillis said.
Sen. Dan Sullivan (R-Alaska)
Sen. Dan Sullivan expressed similar thoughts to McCain and Tillis, asserting that anyone who is fit to serve should be allowed to join the military.
"My initial reaction is, if you can meet [the military's physical] standards, we shouldn't care who you are," Sullivan told Mic an interview Wednesday.
Sen. Richard Shelby (R-Ala.)
Sen. Richard Shelby argued against Trump's policy on the basis of equality.
"I think you ought to treat everybody fairly, and you ought to give everybody the right to serve," Shelby said in an interview with CNN.
Sen. Joni Ernst (R-Iowa)
A spokesperson for Sen. Joni Ernst told the Des Moines Register that while Ernst doesn't agree with military funds subsidizing gender affirmation surgeries, she believes anyone capable of serving should be allowed to do so.
"She believes what is most important is making sure service members can meet the physical training standards, and the willingness to defend our freedoms and way of life," spokesperson Brook Hougesen told the Register.
Rep. Ileana Ros-Lehtinen (R-Fla.)
Rep. Ileana Ros-Lehtinen, who has a transgender son, criticized Trump's ban in a tweet Wednesday. Ros-Lehtinen said all Americans should be allowed to serve in the military, regardless of sexual orientation or gender identity.
Sen. Cory Gardner (R-Colo.)
Sen. Cory Gardner told Mic in an interview Wednesday that "anybody who wants to serve in the military should serve in the military."
"I don't agree with the president," Gardner said.
Sen. Orrin Hatch (R-Utah)
Sen. Orrin Hatch released a statement on Twitter on Wednesday, stating that he doesn't "think we should be discriminating against anyone."
"Transgender people are people, and deserve the best we can do for them," Hatch said in the tweet.
July 27, 12:30 p.m.: This story has been updated.