US pro-life group funneling money into a country whose laws have proved fatal for women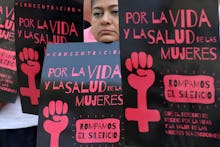 A self-described "pro-life" group based in the United States is propping up El Salvador's universal abortion ban, a law that has proved fatal for the Central American nation's women. According to a Guardian report published Wednesday, the Virginia-based Human Life International would appear to have gifted Sí a la Vida ("Yes to Life"), the anti-abortion group bolstering El Salvador's ban on the procedure, nearly $700,000 between 2000 and 2014.
The El Salvadoran legislative assembly amended the country's constitution to criminalize abortion in 1999, outlawing the procedure in every circumstance, including threat to the mother's life. Women found guilty of aborting a fetus may be imprisoned for two to eight years, according to Amnesty International; the medical professionals who help them can face 12-year sentences. Even a miscarriage can mean prison time — up to 50 years for an aggravated homicide charge. The institution of this total ban concluded an intensive lobbying campaign by Sí a la Vida, which ranks first among the nation's most vocal anti-choice groups.
If Human Life International was not subsidizing Sí a la Vida's efforts from the beginning, then it jumped on the train almost as soon as it left the station: according to tax documents the Guardian reviewed, HLI donated $47,360 to Fundación Sí a la Vida between 2000 and 2007, and a further $615,432 to "Central American causes" between 2008 and 2014.
Because HLI identifies Sí a la Vida as its "El Salvador branch," according to the Guardian, we can make an educated guess at what those causes were: upholding an increasingly unpopular ban on a common procedure that many El Salvadorans would like to see legalized, because it directly endangers women.
According to Amnesty International, 11% of patients who opt for clandestine abortions — of which there were roughly 20,000 between 2005 and 2008 — died from their efforts, likely an underestimate. The inability to secure an abortion may also explain why so many pregnant El Salvadorans take their own lives: Amnesty International reports that 57% of maternal deaths among women and girls aged 10 to 19 are suicides.
The abortion ban has also landed a lot of women behind bars: In 2013, Vice estimated that 628 women had been imprisoned for breaking El Salvador's abortion law since it went into effect. This month, an El Salvadoran judge sentenced a 19-year-old rape victim to 30 years in prison after her delivery ended in a still birth. The situation in El Salvador is dire — and for both women and children, deadly.
So how can a group that's contributing to escalating maternal mortality and imprisonment claim to be "pro-life"?
HLI did not respond to multiple requests for comment on precisely that question, nor would Sí a la Vida provide a statement. Planned Parenthood Global, however, criticized the message the subsidies send.
"It's alarming to hear that a U.S.-based group has been quietly participating in an international effort to hurt, imprison and destroy the lives of women and girls," said Latanya Mapp Frett, executive director of Planned Parenthood Global (the international arm of Planned Parenthood Federation of America), said.
"The U.S. should be known as a leader in addressing global health challenges and ensuring healthier futures for girls and families worldwide — not secretly conspiring to put women in jail," she continued. "The truth is, groups like these promote an agenda that is inconsistent with U.S. law and the prevailing attitudes on abortion in the country, and the fact that we have an administration that shares this extreme view further misrepresents the American people."
And indeed, the Guardian's report is unfortunately consistent with our country's hostility toward abortion rights these days. As one of his first actions in office, President Donald Trump instituted the most aggressive iteration of the "global gag rule" — which blocks government funds from international family planning organizations that fund, provide or otherwise promote abortions — the U.S. has yet seen. Worldwide, the policy is expected to increase unsafe abortions by millions, in a world where unsafe abortions are already responsible for roughly 13% of maternal deaths.
As the U.S. withholds billions in public health funding over the question of women's bodily autonomy, its special interest groups are funneling money into international policies that quantifiably hurt women.