Paul Ryan seems to have had it with Trump — if this bizarre online quiz he created is any indication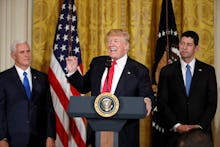 It's no secret that House Speaker Paul Ryan has some issues with the way that President Donald Trump is running the White House. Now he appears to be venting his frustration in a style perhaps more suited to BuzzFeed than a governmental website.
In his weekly online address, Ryan directed his supporters to check out a new website called didyouknow.gop. The URL directs users to a site that prompts them to take a quiz to gauge a user's familiarity with legislation the House has passed this session.
Here are a few of the sample questions:
Here's the question that immediately follows that one.
And here's another, throwing salt on the gaping wound that is Donald Trump Jr.'s ill-advised meeting with a Russian lawyer.
It's followed up by this not-at-all passive aggressive question about human trafficking.
And then this one about the response to Trump's travel ban.
Did you? Did you know that?
Well, DID YOU?
Once completed, the quiz does not reward you with any kind of score or attempts to guess your age. Instead, quiz takers are encouraged to provide their email address to the Speaker's office, so that you can get all the latest updates on the House GOP's under-appreciated agenda. Or you could just take the quiz a few more times.