'Pokémon Go' Legendary Birds Event: Here's why the raids are for a limited time only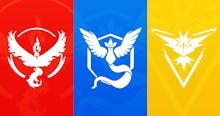 Rare legendaries in Pokémon Go are one of many features fans of the game have been asking for since the start. For a year, Pokémon Go users have filled up their Pokédex only to find notable omissions like Mewtwo, Celebi and the legendary birds of the Red and Blue games. The latter three have finally arrived, but there's just one problem: The legendary birds of Articuno, Zapdos and Moltres will only be available during specific times, one per week, until things wrap up Aug. 14. What's the deal?
Pokémon Go legendary event: Why are Articuno, Zapdos and Moltres a flash sale?
According to the official Pokémon site, Articuno is only available "for a brief while." Niantic, in a blog post, drills down into specific dates. Articuno is available through July 31; Moltres can be had from July 31 through Aug. 7; and Zapdos is obtainable between Aug. 7 and Aug. 14. Why aren't they simply part of the game from now on?
Here's what a Niantic spokesperson had to say on the matter:
Legendaries are special in the world of Pokémon and their appearances are very rare.
So, yeah.
Pokémon Go legendary event: Articuno, Zapdos and Moltres can be rare and still a consistent part of the game
Interestingly, the legendary Pokémon Lugia doesn't get the same treatment. While Niantic is offering up the three legendary birds as part of a flash sale, there's no mention of Lugia being available for only a short time.
To which we wonder: Why do Articuno, Zapdos and Moltres have to be available temporarily in the first place? If any legendaries should always be catchable, it's these three — they're the closest thing to mascots the Pokémon game has. The situation is an odd one if you're not a die-hard fan of the game or join the fun late:
Congrats on joining Team Valor/Mystic/Instinct! Did you catch your mascot bird that one specific time it was available during the summer of 2017? No? There is no other opportunity for you to catch it again. Enjoy Pokémon Go!
Who knows what Niantic has planned — there's always time to reverse this choice, and future events could bring back birds uno, dos and tres. But for now, a one-week window to catch each of Pokémon Go's spiritual leaders doesn't do the game justice.
More Pokémon Go news and coverage
Raids are here, and so are Articuno and Lugia! See how to locate the best ones and why they may be the key to legendary Pokémon. Find out how to determine how long it will take you to reach level 40, and see what we think of the Gen 2 Pokémon added to the game. Here are the kinds of Pokémon you get from 10-kilometer eggs, and here's where you can check out what you missed during the Water Festival and Solstice events.