'Uncharted 4' photo capture mode will return in 'The Lost Legacy'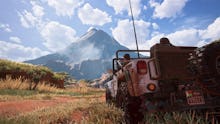 Uncharted 4 received mostly positive reviews from fans, but one especially exciting element of the game was the photo mode. Photo mode allowed players to capture the game's beautiful environments and edit the images to make them even cooler.
According to a post on Player.One, lead designer James Cooper said the mode will be returning to The Lost Legacy in the form of a day one patch.
I believe we're making some improvements to it, too, so I don't want to promise anything.
In the original game, photo mode inspired a community contest with the images fans had captured, so we'll have to see if The Lost Legacy receives the same treatment.
Here are some of the images made from the first game:
Some of these images are pretty amazing, and it would incredible to see what fans come up with for the new game.
More gaming news and updates
Check out the latest from Mic, like this deep dive into the cultural origins of Gamergate. Also, be sure to read this essay about what it's like to cosplay while black, a roundup of family-friendly games to play with your kids and our interview with Adi Shankar, producer of the animated Castlevania Netflix series.