Senate Republicans have had enough of Trump's attacks on Sessions — and are speaking out about it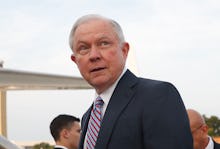 President Donald Trump has been waging a public shaming campaign against Attorney General Jeff Sessions — and some Senate Republicans have had enough.
As Trump attempts to try and push Sessions to resign — calling him "weak" and chastising him in tweets and interviews with mainstream media outlets — Senate Republicans have come to Sessions' defense.
Senate Majority Whip John Cornyn (R-Texas), who hasn't been a Trump critic, said Wednesday it would be a "mistake" for Trump to fire Sessions, saying the move would be "incredibly disruptive."
Cornyn told reporters on Capitol Hill that firing Sessions, "Would make it more complicated for the president to accomplish his agenda."
Sen. Lindsey Graham (R-S.C.), who has spoken out against Trump, said there would be "holy hell to pay" if Trump fires Sessions.
Graham added that if firing Sessions is an effort to oust special counsel Robert Mueller, that would be the "beginning of the end of the Trump presidency."
And Senate Judiciary Chairman Chuck Grassley (R-Iowa), who is responsible for scheduling confirmation hearings on a new attorney general pick should Sessions be fired, said in a Wednesday night tweet that he would refuse to schedule such a hearing in 2017.
Grassley said that the Judiciary Committee's agenda is "is set for rest of 2017" and that there's "no way" an attorney general confirmation hearing fits. The tough talk comes after the Washington Post reported that Trump is considering using a recess appointment to replace Sessions, should he resign.
A recess appointment is a constitutionally granted power that allows a president to install a federal official in a job that normally requires Senate approval if the Senate is in recess.
Sessions, however, has made clear he won't resign. He is currently embarking on a foreign trip to El Salvador to seek ways to combat the MS-13 gang.