There's now a cochlear implant processor made to work with your iPhone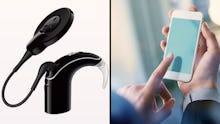 Apple has teamed up with Australian medical device company Cochlear to bring a new cochlear implant sound processor to the market. The processor connects to your iPhone, and, according to Cochlear, it's the first of its kind.
After receiving U.S. Food and Drug Administration approval in June, the sound processor — called Nucleus 7 Sound Processor — lets those living with a surgically embedded Cochlear Nucleus implant stream sound (e.g. phone calls, FaceTime, YouTube) from compatible iOS devices like the iPhone, iPad or iPod touch.
"We wanted to see something that could become ubiquitous out in the world," Sarah Herrlinger, Apple's senior manager for global accessibility policy and initiatives, told TechCrunch. "We want everybody to use our technology and to say 'Wow, my iPhone is the best piece of technology I've ever used before.' …With every iteration of our operating system, our goal is to add in new accessibility features in order to expand the support that we can give to people all over the world."
The direct connectivity also allows implant recipients to control sounds from their Apple devices using the Nucleus Smart app. The application will give implant recipients the ability to "control, monitor and customize" their hearing experience on their iPhone or iPod touch. This level of customization and control offers users flexibility.
The app comes equipped with a variety of features. There's a hearing tracker feature that records "coil-offs time" and "time in speech." The former is when the sound processor does not detect the implant and the latter is time spent in speech environments like FM and streaming. There's also the "find my processor" feature that utilizes location services to find a lost sound processor connected to an iPhone or iPod touch.
"From the experience we've had with our clinical trials, the recipients are absolutely excited about this," Cochlear chief software architect Victor Rodrigues told ZDNet. "They feel that this is a piece of technology they now have access to which allows them to feel more connected, allows them to feel more engaged with their social interactions, for example."
Around the world, there are 590 million people living with a hearing impairment — it's expected to triple to 1.2 billion by 2050 — and nearly 50 million Americans currently live with hearing loss. As per data from the World Health Organization, 72 million people worldwide can benefit from a hearing device, whether it be a hearing aid or a cochlear implant. This technological innovation can potentially change the lives of iPhone users with, or in need of, a cochlear implant.
"What it's doing is allowing them to have a more connected experience with their day-to-day interactions with people, for example FaceTime with loved ones," Rodrigues told ZDNet.