The best shops in Mexico City for locally made goods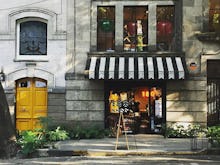 For too long "Made in Mexico" was a misunderstood term — it called to mind a kitschy sombrero from Cancun, or mass-manufactured products from factories along the U.S. border taking advantage of tariff-free trade based on the 1994 NAFTA deal.
But in Mexico City, there's a wave of unique stores that sell "Hecho en México" labels with pride. And we're not just talking traditional handicraft in eye-popping explosions of color, as great as they may be. The booming city has a cross-section of shops, from luxury to approachable. On your next trip, head here for products that imbue Mexico's artisanal pedigree with the city's cosmopolitan flair.
"We've been here all along. Mexico City's always been cool," said Sophia Felix Smith, head of fashion at this upscale department store, in a phone interview. "Foreign travelers and press seem to have recently discovered us — but we have also discovered ourselves."
Felix has been scouting cool homegrown fashion around the Mexican capital for a decade, and has witnessed the evolution of demand for local goods. "We Mexicans realized that we can make very robust contributions to international arenas of art, design, fashion, and food. For the first time in decades, we don't need to turn elsewhere for inspiration; the world's eyes are set on us."
The department store's 2015-renovated flagship in the unabashedly luxe Polanco district makes a point of not segregating Mexican brands. When you explore the pyramid-like store, arguably Mexico's most prestigious retail hub, you'll spot flirty dresses by Alexia Ulibarri, boldly exotic leather goods of Pantera, and whimsical and versatile items by Lorena Saravia. They're all displayed alongside international names — a sign that fashionistas are confident that homegrown goods can compete against what you'll see on Milan and Paris catwalks.
How do you channel Mexico's long heritage of silversmithing but still make it relevant for the contemporary home? Since the 1950s, Tane has produced handcrafted silver goods inspired by pre-Columbian traditions. But their recent collaborations with international names, such as tableware by Bodo Sperlein and jewelry by Iris Apfel, also keep things fresh. Tane's boutique on the pricy shopping thoroughfare of Avenida Presidente Masaryk, is a temple of silver necklaces, rings, and cufflinks, in addition to leather and ceramic wear.
This home goods specialist stocks textiles and earthenware that harken, but are not beholden, to intricate patterns of traditional handicraft. And the goods have a real pedigree, as the store is run by art historian Maggie Galton and Mexican designer Maria Eladia Hagerman. Everything here is tastefully understated in a monochrome palette — with brilliant pops of color for excitement. The bed linens, table runners and dishes incorporate contemporary design and artisanal methods.
Juan Pablo Ballesteros runs an excellent Oaxacan restaurant that serves delicacies like escamoles (ant larvae) and has a wide-ranging mezcal cocktail program. But even if you don't have a meal inside this grotto-like dining room made sleek with pendant lights, you can linger in its small and well-curated shop. Here, you'll discover not-in-supermarket finds like bean-to-bar chocolates, small-batch mezcal and a humble sack of beautifully flaky sea salt harvested by a co-op in Colima.
In the reigning coolness epicenter of Roma, this workshop/gallery from Juan Carlos Iglesias and Bernardo López curates fashion and accessory labels with unique points-of-view and downtown credibility. While there are some international brands, the store spotlights Mexico-designed and made footwear, clothing, and eyewear. Also look for the shop's own streetwear, created right above the shop, which makes timely references — like a torso-hugging T-shirt that reads "The good side of the wall."
In a whitewashed home flooded with natural light in Roma, this bookshop —the brainchild of Rafael Prieto — specializes in art, design, and fashion tomes. Come here to take home a memento of Mexican arts, conveniently collated into coffee table books. Aside from indie magazines from around the world, you'll also find an eclectic selection of books on Mexican architecture.