Despite Trump's tweets, military leaders say there will be no changes to transgender policy, for now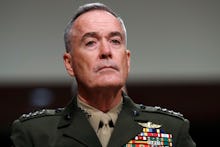 Despite President Donald Trump's Wednesday announcement on Twitter that transgender troops would be banned from serving in the United States Military, the chairman of the joint chiefs of staff said on Thursday that, so far, there will be "no modifications" to the military's current policy on transgender service members.
In a message to military leadership, a copy of which was obtained by Politico, Marine Gen. Joe Dunford wrote, "I know there are questions about yesterday's announcement on the transgender policy by the president ... There will be no modifications to the current policy until the president's direction has been received by the secretary of defense and the secretary has issued implementation guidance."
He added that, "in the meantime," military leadership should "treat all of our personnel with respect. As importantly, given the current fight and the challenges we face, we will all remain focused on accomplishing our assigned missions."
Trump's surprise tweets on Wednesday did not offer specifics as to when the ban would be implemented or how it would affect transgender people who are currently serving in the military.
White House press secretary Sarah Huckabee Sanders offered few clarifications when confronted with questions from reporters on Wednesday.
Trump's tweets about the ban were met with outrage and concern from many, including members of his own party. Democratic lawmakers came out against it in force, many echoing the same sentiment of former Vice President Joe Biden, who tweeted on Wednesday that "Every patriotic American who is qualified to serve in our military should be able to serve. Full stop."