'Pokémon Go' Nest Migration 26: Find changing spawn locations in parks with the Silph Road atlas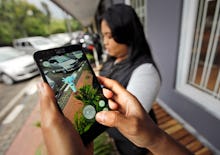 The summer really hasn't let up for the Pokémon Go universe. Just in the last week we've had the Pokémon Go Fest in Chicago, the release of legendary Pokémon, the extension of Fest bonuses and the rollout of rewards for Fest attendees. However, time waits for no man, and the 26th nest migration has occurred.
By now, you probably know the drill, but if you want a refresher or you're new to the game, here's what's up.
Pokémon Go Migration 26: how to use the Silph Road's atlas feature
Every two weeks, the spawn locations — "nests," in keeping with the game series' vernacular — in Pokémon Go change, giving trainers the opportunity to catch Pokémon that might not have spawned nearby recently. The Silph Road posts an update every time the migration happens, so you can always check there if you're not sure.
You can also check the Silph Road's nest atlas itself — recently the site has added a countdown timer to the atlas, allowing you to see when the next migration is predicted to hit. As of right now, the atlas won't be of much use to you. All the previous nests have been wiped. If you'd like to help out, however, you can always register your account with the Silph Road and start reporting where you see Pokémon spawning in your area.
Niantic eventually sent out in-app notifications to confirm the nest migration, just like it did two weeks ago. That was hours after the nest migration update had already gone live, but it serves as a good reminder for Pokémon Go's slightly less devoted players.
July 27, 2017, 2:15 p.m.: This story has been updated.
More Pokémon Go news, updates, tips and tricks
Find out what went wrong at the Pokémon Go Fest in Chicago while you wait for the debut of the European Safari Zones in August and September. Finally, check out some reporting on the issues plaguing rural players a year after launch, how the game created a space for black female gamers and how Pokémon Go can continue to build its community.