'NBA 2K18' My Career News: MyGM story mode comes to series at the right time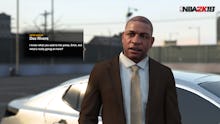 The first in-game details on NBA 2K18 surfaced on Thursday and the biggest highlight of the new features revealed is the new story mode coming to MyGM.
Thursday's announcements only covered MyGM and MyLeague, but the huge developer blog carried enough information for an entire game.
This year, MyGM transforms from a traditional franchise experience to a story mode that challenges gamers to navigate the professional and personal pitfalls that can impede the success of an NBA general manager. It's called, MyGM: The Next Chapter.
If it sounds a lot like MyCareer, that was the point.
NBA 2K18 My Career News: MyGM brings a whole new type of single-player mode
2K wanted to create a unique experience for its franchise mode that generates the level of engagement fans have with MyCareer.
According to a 2K rep I spoke to, MyCareer is the series' most played mode. The story mode that is attached and the challenge of building your character has a lot to do with that.
MyGM may not blow up the way MyCareer has because it doesn't branch off into as many other modes in the game, but what the Next Chapter will do is differentiate itself from MyLeague.
In NBA 2K17, the two modes were very similar. MyGM was supposed to involve you in more of the day-to-day behind-the-scenes duties of a general manager while MyLeague gave you more control of the entire league.
The duties in MyGM simply weren't interesting enough on their own, so it would be understandable if gamers decided to bypass it for MyLeague. Because of the drastic shift in MyGM's focus, it appears that may have been the case.
If the Next Chapter is executed half as well as MyCareer, a very deep virtual hoops experience will getting even better.
More sports gaming news and updates
Love sports games? Check out more content from Mic, including tips for leveling up your NBA 2K17 MyPlayer, playing quarterback in Madden 17, our review of MLB The Show 17 and the classic Nintendo sports games we want to see on the Switch.