Facebook is rumored to be working on a smart speaker — here's everything we know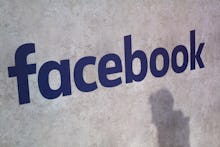 Facebook may be expanding its empire. If a new report from Digitimes is true, then the tech giant could be known for smart-home gadgets in addition to social media apps.
Digitimes, which has a lukewarm accuracy record, claims Facebook is following the footsteps of Amazon, Google and Apple by developing smart speakers. The company's Building 8 research group, its in-house consumer hardware lab led by former Google executive Regina Dugan, is allegedly working on creating a smart speaker featuring a 15-inch touch panel from LG Display, according to "sources from the upstream supply chain."
The speculated device is rumored to be manufactured by Pegatron Technology, a Chinese tech manufacturer. A small pilot production has reportedly started in China and it will be released in the first quarter of 2018. In addition to the touch panel, the speaker will have a magnesium-aluminum-alloy chassis.
Adding some merit to this rumor is a Business Insider report uncovering a Building 8 patent filed by Facebook last week. This patent describes a "modular electromechanical device," which could work similar to a speaker with a screen that can support a speaker, microphone, touch display and a GPS.
Should this smart speaker exist and ever launch, it's hard to say how consumers will respond. Verge points out that most consumers don't trust Facebook: a HuffPost/YouGov poll found American adults don't have much faith in Facebook accessing their personal data. Of those surveyed, 28% responded they don't trust Facebook "at all" with their personal data, 34% responded having "not very much" trust in the company and 32% said they merely "somewhat" trust the tech giant.
Until Facebook makes a confirmation, the Facebook smart speaker is nothing but a hypothetical. The company has given media outlets a standard reply: "Unfortunately we don't have anything to share at this time."