Boy Scouts chief apologizes for Trump's politically charged speech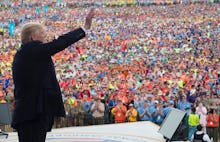 Boy Scouts of America leadership has apologized for President Donald Trump's politically charged speech at the organization's National Jamboree, in which he led the crowd in boos against former President Barack Obama and Hillary Clinton, attacked the media, threatened Health and Human Services Secretary Tom Price and told inappropriate stories about lavish yacht parties.
The blowback from within the organization was swift and fierce, with members saying Trump's speech broke the organization's rules that forbid political activity while in uniform.
Now, three days later, the organization has issued a formal apology.
"We know the past few days have been overshadowed by the remarks offered by the president of the United States," Michael Surbaugh, chief scout executive of the Boy Scouts of America, said in a statement published Thursday. "I want to extend my sincere apologies to those in our scouting family who were offended by the political rhetoric that was inserted into the jamboree. That was never our intent."
He continued:
For years, people have called upon us to take a position on political issues, and we have steadfastly remained nonpartisan and refused to comment on political matters. We sincerely regret that politics were inserted into the scouting program.
The statement noted that every president is invited to speak at the group's National Jamboree, an event that has usually been held once every four years over the past 80 years in which tens of thousands of Boy Scouts camp out over multiple days to build leadership and life skills.
Surbaugh said the organization regrets the incident.
Many Boy Scout alumni condemned Trump's speech, saying it went against the organization's values and rules.
"By bragging about the election and making derogatory comments about both Clinton and [former] President Barack Obama, Trump failed to be kind and reverent and went against the Scout Law in front of a crowd of Boy Scouts," Andrew Pope, who identified himself as an Eagle Scout — the group's highest honor — wrote in a USA Today College op-ed.
Correction: July 27, 2017