How Trump derailed MSNBC's centrist makeover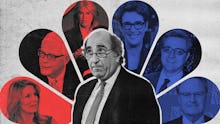 When MSNBC announced in late June that conservative commentator Bret Stephens would begin appearing on the network as an on-air contributor, progressives pounced.
"MSNBC is literally trying to piss off anyone who ever watched them in the last 10 years," tweeted Ian Millhiser, justice editor at the left-leaning news site ThinkProgress. Jordan Chariton, a political reporter for The Young Turks, said MSNBC was trying to "out right" Fox News. Liberal media watchdog Media Matters sniped: "MSNBC, now officially a retirement home for conservatives that nobody else wants anymore."
Stephens, a Pulitzer Prize-winning neoconservative columnist at the New York Times who is skeptical of climate change science, seemed to some progressives a bizarre hire for MSNBC, which for years has been considered a reliably liberal channel. For progressives, Stephens' arrival, which came on the heels of several other conservative hires made by the network, seemed to be evidence that MSNBC was shifting to the right, undermining its left-leaning reputation and its journalism chops.
The complaints were the latest instance of criticism hurled at MSNBC amid a reinvention of the channel, which first became apparent with the return of Andrew Lack in 2015. Lack, the chairman of MSNBC and NBC News, planned to remake the network around Brian Williams while improving MSNBC's once-abysmal ratings, sources said. Lack set out to abandon most of the channel's low-rated opinion-based programming and install in its place news-heavy programs that would make MSNBC more like the channel's sister site, NBC News. (Stephens, like some of the other recent hires, contributes to both.)
But the election of Donald Trump has complicated that evolution, raising the profile and popularity of MSNBC's liberal hosts just as Lack sought to dial back the network's liberal identity. While MSNBC's dayside programming has indeed tottered toward the center of the political spectrum, its prime-time shows, led by figures like Rachel Maddow and Chris Hayes, drives public perception of the channel as an anti-Trump liberal haven.
Five company insiders told Mic they believe Lack is caught in between these two MSNBCs. The sources, who spoke to Mic on the condition of anonymity to protect their jobs or their relationships with the company, said Trump's unexpected presidential win has complicated Lack's plans to move to the center. Amid this channel reinvention, many of the high-profile diverse voices and faces have disappeared from the screen, making some both inside and outside the company worry that diversity, for which MSNBC was once celebrated, has been put on the back burner.
Lack "got caught mid-transition," one MSNBC employee said. "He wanted to make this his own CNN, or his own idea of MSNBC 10 years ago. As he was completing it — and he probably felt like with [Hillary Clinton] losing, it validated his decisions — suddenly there was this big audience for the resistance."
What has emerged is a picture of a fractured and sometimes disjointed cable network with sky-high ratings but a long-term identity that feels unclear to some of the people close to the company. It's made some insiders wonder whether executives know what MSNBC should be at all.
"Fox and CNN have always had clear visions of who they are," another MSNBC insider said. "Like it or not, they know who they are. [MSNBC] has always struggled with that. We have these progressive hosts, and then we have these straight news hosts who are supposed to be objective. So which is it? What are we?"
"[Lack] wanted to make this his own CNN, or his own idea of MSNBC 10 years ago. As he was completing it — and he probably felt like with Clinton losing, it validated his decisions — suddenly there was this big audience for the resistance."
Leaning back in the age of Trump
MSNBC's shift away from the left can be traced back to Lack's return to MSNBC in April 2015, when the chairman was tasked with determining what to do with Williams following an embarrassing fabrication scandal. Lack, who helped launch the cable channel as president of NBC News in the 1990s, also needed to revitalize MSNBC, which, after finding success as a progressive voice during the George W. Bush administration, was suffering its lowest ratings in a decade by the end of Barack Obama's second term.
Lack set his sights on bringing Williams, a personal friend and a former mentee, to the channel as part of an ambitious reinvention. Lack, who worked with Williams at both MSNBC and on the Nightly News desk, believed the anchor's star power would help revitalize the channel, several current and former MSNBC employees told Mic. Lack also believed Williams' style of serious live news coverage would seem out of place interrupting opinion-based shows, sources said.
MSNBC's dismal standing in the ratings at the time meant Lack was given ample room to experiment with much of the programming, which by 2015 had been operating for five years under the slogan "Lean Forward." At a company town hall in July of that year, Lack reportedly laid out the new plan: hard, NBC News-esque news during the day and opinion-heavy talk shows in the morning and at night. Progressive programs and hosts from the daytime hours were quickly axed, sending The Cycle co-hosts Krystal Ball, Touré and Abby Huntsman, labor union advocate Ed Schultz and the show Now with Alex Wagner to the chopping block. "Lean Forward" was dropped as the channel's slogan by August. The Rev. Al Sharpton lost his weekday slot in October and was pushed to Sunday, following hosts Ronan Farrow and Joy Reid, whose weekday shows had been canceled eight months earlier.
As the cuts continued, NBC News figures began to move into the MSNBC lineup. Chuck Todd got a show in the 5 p.m. hour to extend the Meet the Press franchise, and much of MSNBC's dayside lineup was filled out with live news blocks that regularly featured NBC News journalists. When the 2016 election picked up, MSNBC's live-news-heavy lineup allowed the channel to aggressively cover the horse race. By September 2016, Williams had snagged a temporary show at 11 p.m. to focus on the election; afterward, it was made a permanent program. NBC News talent like Katy Tur and Hallie Jackson have also begun anchoring live news on MSNBC during the day since November.
The remaining vestiges of the more liberal MSNBC — Chris Matthews, Chris Hayes, Rachel Maddow and Lawrence O'Donnell — were not initially targeted in the channel reinvention, and Lack never laid out a public plan to overhaul MSNBC's prime-time programming. But as the changes to dayside became more apparent, some speculated that Lack would go after prime time next. Three company insiders told Mic that Lack is not fond of these offerings, believing that the commentary-heavy programming is ill-suited for the news channel he set out to mold. An MSNBC executive, though, insisted that Lack was pleased with the prime-time lineup because of how well the programs were performing, and said that the opinion show hosts have only benefitted from MSNBC's increased hard news focus. Either way, the newfound popularity of the prime-time shows, which have broken records for the company in 2017, would make it tough for anyone at MSNBC to justify changing the lineup.
In interviews, Lack has credited much of MSNBC's success to the hard news daytime programming he's built out over the past several years. It's true that dayside has served the channel well, with viewership up 63% year over year and with MSNBC regularly beating CNN in the dayside hours. But, led by Maddow, the progressive prime-time lineup is what has been breaking records for the channel. In May, MSNBC's prime-time lineup beat out both CNN and Fox News in the advertiser-friendly 25-54 age demographic for the first time since 2000, and for a week in July, MSNBC was the most-watched channel on cable during prime time, a first in the company's history. Maddow, now the No. 1 cable news show host at 9 p.m., has regularly brought in an average of more than 2 million viewers.
"[Lack] has tried to say that it's because we've created a really hard news identity during the day," an MSNBC insider said. "That's nonsense. The reason it's working, and the reason this audience is being generated, is because the 'Lean Forward' model very much came back into style after everybody thought it had stopped working."
"It came back into style because of Trump, and because Trump became president," the person added. "That is absolutely what's driving this now."
Earlier this year, MSNBC viewers and some corporate media critics began to speculate that the channel's progressive prime-time lineup was on the chopping block after HuffPost reported that The Last Word host Lawrence O'Donnell had not yet renewed his contract. O'Donnell, a fierce Trump critic, quickly garnered support as a face of the resistance, and pointed to his impressive ratings as evidence that he should remain in his current time slot. O'Donnell and MSNBC eventually settled on a new contract on May 31, and the anchor retained his 10 p.m. post-Maddow spot.
Some of the people Mic spoke to said the brouhaha came from contract negotiations spilling out into the open, but two people said Lack had considered moving O'Donnell out of the 10 p.m. hour to make room for Williams earlier in the evening. Reid, whose two-hour Saturday show is averaging more than 1 million people, was rumored as a possible 11 p.m. host if Williams had been moved to an earlier time, one person said.
"I think they're kicking themselves because they had the idea [to replace] Lawrence for a long time," one person said. "And they waited and waited and waited, and they waited so long that they ended up in a moment where it was impossible to do it."
An MSNBC executive said the network was not considering moving Williams to another time slot because of how well he has done at 11 p.m.
One show that has long been rumored to be on the chopping block is All In with Chris Hayes, which airs at 8 p.m. Hayes' ratings at times dipped so low — bringing in only around 540,000 total average viewers in the second quarter of 2015, according to Nielsen — that he was once labeled by the media as a dead man walking. But the host has reversed his fortunes tremendously, and in 2017 is averaging a record 1.6 million viewers, occasionally beating out both Fox and CNN in the 8 p.m. time slot. Sources said they don't believe Lack is likely to touch Hayes' show for the time being — but that's not to say Hayes or the other prime-time hosts are safe forever.
"If [Lack] could figure out a rationale for moving out even more of the progressive voices, I think he would," said one company insider.
Conservative voices are in
As Lack has ramped up his NBC-ification of MSNBC, he has also increased the number of conservative voices in the channel's ranks, prompting frustration from network insiders and outsiders alike.
Over the last year, MSNBC hired a handful of conservative pundits, including Stephens, conservative radio show host Hugh Hewitt and Nicolle Wallace, a former spokeswoman for former President George W. Bush. Hewitt and Wallace were featured in a cheeky 2016 ad alongside other channel contributors like Republican National Committee chairman Michael Steele and GOP strategist Steve Schmidt: "People might start accusing us of leaning too far to the right." After Trump's win, Wallace and Hewitt became permanent channel fixtures, with Wallace taking over the time slot formerly occupied by NBC and MSNBC political analyst Steve Kornacki and Hewitt getting a half-hour program on the weekends.
The hiring of conservative voices is certainly not unique to MSNBC, or even particularly new for the channel. CNN has been lambasted for its controversial conservative pundits, including gaffe-prone, pro-Trump voices like Jeffrey Lord and Kayleigh McEnany. Some conservative voices — like Morning Joe host Joe Scarborough, a former Republican congressman — have been at the channel since long before the Trump era. And MSNBC's conservative hires only make up a portion of new contributors, who together make up a range of political opinions. One MSNBC insider pointed out most of the conservative contributors, save for Hewitt, are united in their distaste for Trump, including Wallace, who heads up a news-heavy program at 4 p.m.
But it's undeniable that MSNBC has looked to bring on conservative voices in an era when Republicans are in power, in an effort to both appeal to a wider audience with robust discussion and build a relationship with Republican lawmakers, sources said. And when compared to MSNBC's former liberal identity — or even its current prime-time hosts — the conservatives stand out.
Lack's decision to hire former Fox News host Greta Van Susteren is perhaps the best example of the effort to bring on someone who could attract Republicans to the channel. Four people told Mic that Van Susteren's hire was predominantly driven by her relationship with the Republican establishment, which would allow for regular on-air interviews, rather than because of any perceived partisan tilt. Three people said Lack believed Van Susteren's fans at Fox News might follow her to MSNBC, introducing a new sort of viewer to the channel.
That's not to say they thought it was a good idea. While Van Susteren was able to secure interviews with high-profile Republican lawmakers, her show struggled to gain traction, with viewership dipping below the previous hour's. She was abruptly shown the door in June, and MSNBC legal analyst Ari Melber has since taken over the hour.
The hiring and firing of Van Susteren nonetheless attracted a flurry of negative press. MSNBC was slammed for hiring an ex-Fox News host and was accused of stepping too far to the right, angering its longtime viewers. The outrage was amplified by the announcement two days earlier that NBC News had hired former Fox News star Megyn Kelly.
The hires of conservatives and Fox News talent have angered some close to the company, too. One person close to the network, frustrated, suggested that Lack was hiring Fox News talent because of his admiration for late former Fox News chairman Roger Ailes.
"He idolizes Ailes, or at least his decisions seem to suggest he does," the person said. "I would not be surprised if Andy had a bracelet or a plaque that said, 'WWRD: What Would Roger Do?'"
In response, an MSNBC spokesperson said: "This organization's mission is based on journalism. That's [Lack's] north star."
The diversity issue
What has stung the most to some people hasn't simply been the hires of ex-Fox talent or outspoken conservatives, but the fact that the hires have seemed to replace many of the network's hosts of color. Since Lack's return to MSNBC, according to HuffPost, at least nine contributors and show hosts of color have departed the channel. The loss of several familiar faces of color has been particularly stark against the backdrop of the new hires, many of whom are white.
Concerns about diversity have been amplified in part by a series of contentious departures that have played out in the press. In February 2016, progressive weekend host Melissa Harris-Perry, who is black, refused to appear on her show, publicly alleging that the network was trying to usurp her 4-year-old program and dictate her editorial choices. She was fired, prompting discussion over whether MSNBC remained committed to the diverse opinions and guests that Harris-Perry's show had prioritized. The conversation arose again when anchor Jose Diaz-Balart was regularly preempted for election coverage. (Diaz-Balart, who is Cuban-American, is no longer an MSNBC host, but he remains a host on NBCUniversal's Telemundo and on NBC News.) And it reached a fever pitch in January following the abrupt departure of NBC News and MSNBC host Tamron Hall, who reportedly decided to leave the network after discovering she would lose her Today show hour to Kelly.
No one Mic spoke to believed Lack intentionally targeted hosts of color, but four MSNBC insiders said they do not believe Lack actively prioritizes on-screen diversity. The loss of diverse hosts, then, is more of an unintended consequence of the long-term reinvention of the channel.
"It's clearly not been a priority," one person said. "At this sort of liberal height of MSNBC, I think that was something that we took pride in. ... There certainly doesn't seem to be any commitment [to diversity] under Lack."
Three people at MSNBC pushed back on this claim, pointing to diversity among the upper echelons of the company, including Yvette Miley, who heads diversity and inclusion for both NBC News and MSNBC. Another MSNBC insider defended the efforts at diversity throughout the company, and said public perception was mainly a result of bad press surrounding on-screen personalities of color.
"The world sees the anchors and reporters on TV, but I see the whole place," the person said. "I see a very diverse company when I walk around the place, and there is some remarkable diversity at the highest levels. But a customer-facing company always has to be concerned about [how it looks] getting rid of people, and what it looks like when you're replacing them."
MSNBC declined to provide internal diversity numbers, but asserted its commitment to diversity in a statement to Mic.
"We are proud to have one of the most diverse teams in the business," an MSNBC spokesperson said. "Diversity is an absolute imperative, and something we're always working to do better."
"I see a very diverse company when I walk around the place, and there is some remarkable diversity at the highest levels. But a customer-facing company always has to be concerned about [how it looks] getting rid of people, and what it looks like when you're replacing them."
All about the business
Much of the recent criticism MSNBC has faced has been due to its aggressive pivot away from the "Lean Forward" sensibility. But it's naive to think the network was ever truly committed to those liberal ideals for which the channel is so well-known, sources told Mic. Any changes to MSNBC's identity, its tone or its talent will come down to one thing: the business interests of the company.
MSNBC has adopted various personas over the years, always as an effort to bring in viewers. After the September 11, 2001, terrorist attacks, for instance, MSNBC rebranded briefly as "America's News Channel," hiring outspoken conservative commentators like Pat Buchanan and controversially canceling anti-war liberal Phil Donahue's show in an attempt to become a conservative hub. (That endeavor, as the New Republic noted in a 2013 article, was a failure.) The channel found its niche in the mid-2000s, when then-host Keith Olbermann's tirades against members of the GOP during the Bush presidency made him a star among progressives. The liberal bent that the channel embraced in those years was an attempt to capitalize on Olbermann's success, insiders said.
Even diversity has been embraced chiefly to benefit business — at least at MSNBC's parent company. According to Washingtonian magazine, NBC News' current parent company, Comcast, handed out political donations and promised it would increase diversity on air as a way to galvanize public support for the approval of a giant merger that ultimately put NBC News under its control.
Lack's vision for a new and improved channel is just another example of a business-driven reorientation of MSNBC. Lack's pivot to the center is, some people said, better interpreted as an abandonment of shows with low ratings than a strictly ideological political decision. Lack is concerned not with the liberal or conservative slant of the network, but whether the channel will end up being a business success, as one MSNBC insider put it.
Right now, it's working. Even though progressive prime time and straight news daytime sometimes seem at odds with each other, the channel is growing tremendously. And one person close to the company pushed back on the idea that the channel has to be just one thing, asking, why can't it be both?
It's unlikely that the channel will see a major shake-up in the near future. One MSNBC insider said Lack has become less involved in the channel's day-to-day since ratings have turned around. And if Lack were to go after prime time, sources said, he would likely need to produce a compelling business reason. Some suspect that prime time could face another ratings crater if the power center in Washington shifts to favor Democrats — much like in 2013, when MSNBC's ratings first plummeted. But that power shift is likely years away.
The channel as it exists now, though, has made some network insiders mourn the loss of a primarily liberal institution. Others feel like the move was only a matter of time.
"I think this shows the limits of corporate progressive media," one person said. "There's always going to be a limit to how far you can go. There's always going to be a desire to scale things back, because you're fundamentally going to be biting the hand that feeds you at times. And you're unlikely to have executives to really believe in the mission and share the values."
July 28, 2017, 4:01 p.m.: This story has been updated.