R Kelly fans face conflicted feelings as his tour continues after "cult" allegations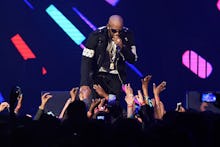 Almost every day on his way to work, Matteo passes by an electronic billboard featuring R. Kelly. It hangs outside a venue where the controversial singer — the self-proclaimed "Pied Piper of R&B" — will soon perform one of the last remaining dates for his ongoing After Party tour.
"When I saw it, at first I didn't really care," the 33-year-old Matteo said in a Wednesday phone conversation. But after BuzzFeed News published their July exposé on the singer's alleged "cult," the billboard started to bother Matteo.
The story — written by journalist Jim DeRogatis, who has covered the singer's alleged sexual misconduct for the past 17 years — details the ways the 50-year-old star has allegedly been controlling the lives of a group of young women, many of them aspiring singers themselves. According to the report, Kelly houses them in properties he rents in the suburbs of Chicago and Atlanta, controlling "what they eat, how they dress, when they bathe, when they sleep, and how they engage in sexual encounters that he records."
Now the electronic billboard has taken on a new meaning in the eyes of Matteo, who asked Mic to withhold his last name and city of residence for fear of harassment. The fact that the singer will soon be coming to perform just a few blocks from his house no longer sits well with him. In the days following the publication of the BuzzFeed story, Matteo found the event page for his local show and flooded it with links to BuzzFeed's article; fans on the page were discussing whether or not to attend the show, and Matteo commented on several of those posts with a link to the report. "Read this before u go," he wrote in one comment.
"They should know," he said over the phone. "I know he married Aaliyah when she was [15]. He seems to have this pattern of tricking young girls into going with him, and I just find it disgusting."
Ever since the singer's reported marriage to a then-15-year-old Aaliyah in 1994, Kelly's career has been stained by one scandal after another. BuzzFeed's story is just the latest example, but for many, it serves as further confirmation of R. Kelly's allegedly sexually deviant tendencies. They're pushing it as a sign that the entertainment industry must cut ties with the once-reigning King of R&B. For others, it's a nonissue: In their view, R. Kelly the musician exists separately from R. Kelly the alleged abuser, and the artist still puts on one of the most entertaining shows in R&B.
As of Thursday, his current After Party tour, which is scheduled to extend through October, has not been canceled. On Friday, Kelly will take the stage for the first time since the BuzzFeed report surfaced, at Virginia Beach's Veterans United Home Loans Amphitheater. That gig will be immediately followed by shows in Baltimore and White Plains, New York, on Saturday and Sunday, respectively; later this summer, R. Kelly will play venues in Detroit and Atlanta. Despite the most recent allegations, the tour is proceeding as planned — and according to TMZ and other sources Mic consulted, ticket sales are doing fine.
"It's selling even better, if anything," a promoter for one of Kelly's upcoming August performances said in a phone conversation. "We're about 96% filled."
If you check the Facebook pages for the shows' promoters and venues, you'll find the comment threads filled with arguments between those who just want to enjoy the music and others who don't want the singer anywhere near their local venues.
"Girls under 22 shouldn't be allowed to attend for their own safety," one person wrote.
"Hang in there my brother. It's nothing but the enemy trying to steal your destiny but the devil is a liar," wrote another.
Even though he's disgusted by Kelly himself, Matteo has some sympathy for the singer's beleaguered fanbase. "If one of my favorite artists did that, I would probably still listen," he said. "I would still see them. So I can understand people separating the person from the scandal. Do I think it's right? No. I still would think less of the person and I still think it's wrong. But I could see where people wanting to listen because they grew up with their music."
That's Chris Sankowski's view, more or less. The 37-year-old physical therapist assistant from Binghamton, New York, has been listening to Kelly's music since he was 13, and he's currently trying to talk friends into going to the White Plains show with him.
"I know all his music," Sankowski said over the phone. "I think he's very good at what he does. Obviously his songs are very sexual, a lot of stuff, but at the same time he can write 'I Believe I Can Fly' and when we had tragedies, he could write 'Rise Up,' or 'World's Greatest,' things like that, that are very inspirational songs. It's pretty amazing lyrical content for a person who can't even read."
Sankowski said he read a little of BuzzFeed's story, but didn't feel it was worth his time. "I'm not here to investigate the guy," he said. "You can go after anyone for anything. His issues are his things to deal with. I like him for his energy and his music. I'm not really out here to judge people … You can't sit here and crucify people who are tried for something and found not guilty of something."
Michelle B., a 49-year-old singer from Mount Vernon, New York, takes a similar stance. She found out about Kelly's White Plains, New York, show too late to attend, but describes herself as a fan ever since he left Public Announcement, his early-'90s R&B group. His personal "issues" are separate from the talents he shares with the world onstage, she believes.
"I do not believe that Kelly needs to hold any woman hostage to be with him; I do not believe he has a cult," Michelle said in an email exchange, noting that she did not read the BuzzFeed story but that she is "familiar enough" with the allegations against him. "I feel he is a very flawed and a talented man who needs to deal with his issues, if it is found that he has any. I still love his music, his issues do not take away from his talent."
For some, though, the issue about whether to support Kelly is about more than just the personal relationship between fan and musician. It's about the message that it sends to audiences when Kelly's alleged exploitative behavior goes unchecked. Kenyette Tisha Barnes, a 46-year-old registered lobbyist with the Georgia General Assembly and leader of the #MuteRKelly movement, said the singer's ability to still perform freely in Atlanta — where he's scheduled to play the Wolf Creek Amphitheater in late August — is disrespectful to victims of sexual exploitation. She's currently circulating a petition, aiming to collect 1,000 signatures to present to Atlanta's Fulton County Board of Commissioners to show there's a significant portion of the community that does not want Kelly performing there.
"His perennial sexually inappropriate behavior with young women, it just keeps popping up," she said in an interview. "Every two years there's something new; there's somebody new. When do we say as a community, 'Enough is enough?'"
Barnes grew up on Kelly's music, but said she hasn't allowed it to be played in her house since news about his alleged sexual transgressions began surfacing in the early 2000s. She doesn't consider the allegations from the BuzzFeed story to be the most egregious of all those leveled against Kelly. He may not have convictions to his name, she noted, but there was evidence of his supposed misconduct. As DeRogatis wrote for WBEZ in 2013, jurors in Kelly's 2008 child pornography case identified him as the man captured on video urinating on and abusing a young girl, but since jurors could not confirm the victim or her age, they delivered a not guilty verdict. Additionally, a 2002 search of Kelly's home following a Florida arrest saw the singer accrue another 12 counts of possession of child pornography. Prosecutors dropped that case in 2004 because the court determined the search that seized the tapes was performed without probable cause.
"Atlanta, Georgia, is the hub of underage sex trafficking in the United States," Barnes says. (According to Politifact, the FBI identified Atlanta as one of 14 cities with the highest incidence of children used in prostitution as early as 2005, but Politifact also pointed out that it's hard to rank any one city as the top hub.) "For us to be identified as such, and to have a strong, legislative community focused on targeting underage sex trafficking and prostitution — for the Fulton County Board of Commissioners to give a contract to Live Nation to host this man, to me is irresponsible and it's egregious. We have to be the example for this."
Mic reached out to Live Nation to comment on the sales and audience response surrounding Kelly's upcoming shows, but a representative declined to comment.
BuzzFeed's story claims that Kelly houses members of his alleged "cult" in an Atlanta suburb, which only underscores the need for the Atlanta community to act, Barnes argued. If her petition isn't enough to stop the show, she plans to organize a protest outside the concert.
"Entertainers have a platform," Barnes said. "They're no different, in my opinion, than politicians. When you have a platform of R. Kelly's degree, you have to be held to higher standards." Barnes knows, though, that there will always be people who support R. Kelly. "I have friends who support him and they know what I'm doing, and we have an agreement: If you come to the concert you might see me."
Mic has ongoing music coverage. Follow our main music hub here.