Follow these 21 Twitter accounts to get smarter about money, and learn secrets to wealth and success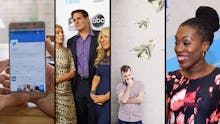 You've heard the advice to diversify your assets if you want to build wealth. Well, the same goes for diversifying the information you consume: If your daily "diet" of media consists of just sports, politics, or entertainment, you might be missing out on those healthy daily servings of financial news you can use — plus wisdom and advice that will help you grow wealthier over time.
Luckily, several top experts on Twitter are actually fun (and funny) to read, making it enjoyable to take in diverse, smart ideas about money and business success: While one person knows everything about rewards cards — or deal sites — others might be a real estate expert or investment guru.
It is easy to follow top thought leaders on Twitter, where experts dole out their advice for free every day, but you have to be careful whose advice you take — it's easy to get led astray by talking heads whom you should just ignore.
To help you choose the best minds to follow, the Payoff handpicked 21 of our favorite Twitter accounts for financial advice, wisdom about business and more. You might recognize a few well-known investors and entrepreneurs like Mark Cuban, while others are more under-the-radar-bloggers with relatively modest followings, but sage advice.
Here are our top picks for 21 Twitter accounts to follow:
1. Morgan Housel, partner at Collaborative Fund
Who's this? A former Motley Fool columnist, Housel takes a philosophical approach to investing that is as relevant to financial novices as it is to the pros. His clever tweets tend to be refreshingly free of financial news jargon, all while reinforcing key principles of investing for long-term wealth.
Sample tweet:
2. Liz Ann Sonders, vice president and chief investment strategist at Charles Schwab
Who's this? With more than $2.7 trillion in client assets managed under her watchful eye, Sonders is one of the most powerful women in finance today. But she's not all about the markets: She tweets on everything from the most hated office jargon to the most valuable sports teams in the world.
Sample tweet:
Who's this? Founded by former Wall Street "road warrior" Brian Kelly, The Points Guy is the go-to site for travel deals and squeezing the most rewards out of your travel card. The site's Twitter account highlights everything from flash sales on plane tickets to the best credit card deals.
Sample tweet:
4. Mark Cuban, billionaire investor and owner of the Dallas Mavericks
Who's this? You may know him best as a judge on "Shark Tank," but Cuban is also one of the wealthiest people in America, with a net worth hovering around $3.3 billion. While he tweets about everything from NBA contracts to artificial intelligence, his insights on success and entrepreneurship in particular will inspire anyone who dreams of joining the financial big leagues.
Sample tweet:
Who's this? Tiffany Aliche is a former preschool teacher turned financial educator, blogger and public speaker with a focus on living a debt-free life. "The truth is debt is not cute," Aliche has said. She speaks from personal experience, as she was once mired in debt herself.
Sample tweet:
Who's this? A former microbiologist with degrees in both clinical laboratory science and nutritional science, Beth Moncel has turned her talents toward teaching people to make gourmet meals without spending a fortune. Her mouth-watering tweets show recipes from her blog, which breaks down the exact cost per serving of every meal.
Sample tweet:
7. Dan Ariely, professor, author and chief behavioral officer at Lemonade
Who's this? Ariely is a behavioral economist and best-selling author of Predictably Irrational and the forthcoming Dollars and Sense: How We Misthink Money and How to Spend Smarter. He tweets about everything from time management to the latest in happiness research.
Sample tweet:
8. Brianna McGurran, Student loan and personal finance expert at NerdWallet
Who's this? Author of the "Ask Brianna" column on financial site NerdWallet, McGurran covers everything from student loans to finding a job you love, with a focus on advice for people in their 20s.
Sample tweet:
Who's this? Founder of the woman-focused advisory firm Ellevest — and a former CFO at Citi and CEO of wealth management at Merrill Lynch — Krawcheck is an advocate for women's financial literacy, equal pay and entrepreneurship.
Sample tweet:
Who's this? Deal sites are a dime a dozen, but Slickdeals stands out not only for its steady supply of surprisingly good discounts, but also because members rate and discuss offers, allowing you to see the most popular ones. If you see a deal that looks good on the site's Twitter page, just click though to see its user-generated "deal score" and the number of people who rated it.
Sample tweet:
11. Ron Lieber, New York Times money columnist and author of The Opposite of Spoiled
Who's this? An ardent consumer rights advocate, Lieber dishes out personal finance tips on the regular on everything from renting versus buying to the ethics of adjusting your assets to qualify for Medicaid. While many journalists use Twitter as a self-serving forum to promote their own work, Lieber shares a broad range of stories and ideas culled from across the Twittersphere.
Sample tweet:
12. Jeff Rose, CEO and founder of Alliance Wealth Management
Who's this? Rose is a certified financial planner and Iraq combat veteran who regularly shares his personal finance tips in recurring columns with U.S. News and Business Insider as well as on his blog. He's an excellent go-to for retirement and budgeting advice, particularly for young families and the self-employed.
Sample tweet:
Who's this? Erin Lowry has turned her expertise in (and struggles with) money into a lucrative career as a voice for broke young people everywhere. Her book Broke Millennial and blog BrokeMillennial.com advise others on becoming a "financial badass" — with tips on everything from negotiating your salary to making a budget.
Sample tweet:
14. Josh Brown, CEO of Ritholtz Wealth Management
Who's this? The self-proclaimed "Chairman of the Twitter Federal Reserve," Brown is a financial adviser with more than 800,000 followers. He's also one of the funniest guys on Twitter: "I'll use statistics, satire, anecdotes, pop culture references, sarcasm, fact, fantasy and any other device that I feel necessary to get my points across," he wrote on his blog. But his more serious tweets are always worth a read, too.
Sample tweet:
15. Michelle Singletary, Washington Post columnist and author of The 21 Day Financial Fast
Who's this? Singletary, whose personal finance column is syndicated to over 100 newspaper, writes about everything from why millennials need to start investing to how not to waste money on travel. Her mantra: "If debt were a person, I'd slap it!"
Sample tweet:
16. J. Money, personal finance blogger
Who's this? Lots of people dish out advice on how to get rich, but J. Money is one of the few to actually share his net worth with his followers every single month. (It was $648,316.94 at the end of June, up from around $60,000 in 2008.) It doesn't get any more real than this, and the former graphic designer has racked up some 32,000 followers along the way with his down-to-earth financial advice.
Sample tweet:
17. Michelle Schroeder, blogger and personal finance expert
Who's this? Schroeder is a former finance analyst who started her blog, Making Sense of Cents, to track her experience paying down $38,000 in student loans. She now travels the country with her husband and two dogs in an RV, and lives off her blogging income. Making Sense of Cents was voted Finance Blog of the Year at the 2016 FinCon conference.
Sample tweet:
18. Meb Faber, co-founder and the chief investment officer of Cambria Investment Management
Who's this? Investment guru and quantitative analyst Faber tweets mostly about money management, stock picking and the best ways to grow your assets. He also has a great blog and podcast called The Meb Faber Show.
Sample tweet:
19. Roger Ma, certified financial planner
Who's this? A Manhattan realtor and CFP, Ma also has a blog, Life Laid Out, that covers everything from the right subway pass to buy to how much money to put into your IRA. He was recently named one of Investment News' 40 under 40 financial experts and contributes to Forbes and The Street.
Sample tweet:
Who's this? Sam Dogan is a 13-year finance veteran with an MBA from the University of California at Berkeley whose blog, Financial Samurai, covers everything from the smart way to invest in real estate to why married couples should keep separate bank accounts.
Sample tweet:
21. Farnoosh Torabi, author of When She Makes More
Who's this? The best-selling author now hosts a podcast, So Money, that has featured interviews with Tony Robbins, Sallie Krawcheck and Tim Gunn. Torabi's accessible style has helped her gain a solid following on Twitter — for good reason.
Sample tweet:
Sign up for the Payoff — your weekly crash course on how to live your best financial life.