'Pokémon Go' fans traveled from all over the country for the game's first live event — here's why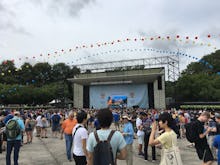 On July 22, Pokemon fans and fanatics from around the country descended on Chicago's Grant Park for the first ever Pokémon Go Fest. The event was the culmination of a full year of augmented reality-enabled Pokemon hunting, bringing a global community together with the promise of ultra-rare legendary Pokemon and other in-game rewards.
But the fest didn't go exactly as planned. Overloaded mobile networks made the game nearly unplayable within the confines of the park, and the company's CEO was booed when he attempted to take the stage and speak to the frustrated crowd. The atmosphere was tense, but interviews with over half a dozen players revealed a sense of excitement and optimism for the future of Pokémon Go — even from people who drove hundreds of miles and spent hundreds of dollars on second-hand tickets to the sold-out event.
The woes of traveling long distances and dealing with terrible Wi-Fi
Patrick and Pat drove all the way from Philadelphia — a 759-mile journey — with around 20 members of a Discord server they're part of. This made the connection issues that marred Pokémon Go Fest even more of a disappointment.
"I really wish they'd thought to have some sort of industrial Wi-Fi," Patrick said as we waited for the fest's opening ceremony to begin. "I mean, their [former] parent company is Google, you know?"
Reese traveled even further — all the way from New Mexico — after shelling out $180 for a scalped ticket (originally priced at $20). "Aaaaand my game just crashed again," he groaned when I asked about his experience so far, adding that he probably won't bother attending the next Pokémon Go event.
Then there was Stephen, who traveled from Wisconsin and spent $500 on a pair for him and his girlfriend. Despite the fact that connectivity issues basically meant he had wasted his money, he was surprisingly content.
"It's sort of a shit show," Stephen said. "You can't log on. You can't catch Pokémon. But you can't be a pessimist about it. Plus, it's been a beautiful day."
He told me that the fest won't stop him from playing entirely, but it will make him less likely to buy scalped tickets for the next Pokémon Go event.
Some die-hard fans even traveled to the event without guaranteed entry. Kaitan told Mic he only managed to secure his tickets that morning,
"I barely got tickets," he said. "I bought them in line today like three minutes after the gates opened."
Some people were unfazed by the issues that marred Pokémon Go Fest.
"I go to a lot of music festivals," Sam, who traveled from Chicago's suburbs to attend the event, said. "And there's always connectivity issues at fests."
"It's the nature of the beast," his friend Mallorie added.
"It's been great," Denise, another Pokémon Go fan, said. "I've been under the weather myself, but that didn't stop me from coming."
It's the community that keeps Pokémon Go players coming back
Beyond the promises of rare Pokémon and special rewards, fest attendees said the Pokémon Go community is what keeps them from deleting the app off their phones.
"It's great to see all these people going out, and walking around," a Pokémon Go trainer who declined to give their name said. "It gets families walking around together, and that's really important."
Pat and Patrick from Philadelphia noted they had built new friendships thanks to Pokémon Go.
"We started organizing through Facebook," Patrick said. "None of us knew each other a year ago, and now we're at a festival in Chicago."
"The game brings a lot of people closer together," Tony, another Pokémon Go player, said, adding that he's also explored new parts of his neighborhood and biked more thanks to the app.
What Pokémon Go players are hopeful to see from the game in the future
Finally, we had to ask Pokémon Go's most devoted players what they want to see from the game moving forward. The answers made it clear that even a year after it's release, the app is still far from complete.
"Trading would be nice," Issa, who showed up to the event dressed in a Squirtle tank top, said.
"More candies," Chad, who bought his ticket second-hand for $100, said. "Definitely more candies when you catch Pokémon. Right now it's hard to get all the candies that you need."
"I like the cooperative play," his friend Torrell added. "Stuff like raids. So I'd like to see trading, PvP and I'd really just like to see the game grow."
Sam said he's hopeful for the addition of new Pokémon soon. They've already caught almost all of the ones that are currently available in the app, though plenty more exist in other Pokemon games.
Denise noted that Pokémon Go is still difficult to play in rural areas, even if it's gotten better over the last year.
"I have friends in the suburbs who don't get as many spawns as we do in the city," she said.
Pokémon Go clearly still has plenty of room to improve, and even the game's most diehard fans were quick to offer up suggestions for future features and to complain about the failures of the Chicago event.
But at the end of the day it was the game's lasting sense of community that turned what should have been a total disaster into at least a partial success. A year after Pokémon Go first launched the game's core community is still going strong, and if it can survive Pokémon Go Fest Chicago it can probably survive anything else too.
More Pokémon Go news, updates, tips and tricks
Raids are here — and not just for ordinary Pokémon. Check out our coverage of the legendaries now in-game, Lugia and Articuno. Find out what went wrong at the Pokémon Go Fest in Chicago while you wait for the debut of the European Safari Zones in August and September. Finally, check out some reporting on the issues plaguing rural players a year after launch, how the game created a space for black female gamers and how Pokémon Go can continue to build its community.