'Hot Mic' podcast: Transgender policy, Boy Scouts apologize, senators defend Jeff Sessions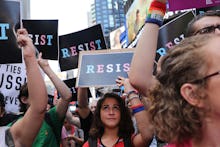 Listen and subscribe to the Hot Mic podcast from your mobile device:
Here are the important stories to know for Friday, July 28:
1. Military leadership has said there won't be any changes to the military's current policy on transgender service members.
2. The chief of the Boy Scouts of America apologized for Trump's controversial speech.
3. Senate Republicans have had enough of the president's attacks on Attorney General Jeff Sessions.
Direct from Mic's newsroom, Hot Mic keeps listeners informed with a daily run-down of top stories, breaking news and analysis from our news team.