Russia is retaliating against new US sanctions. Here's what that actually means.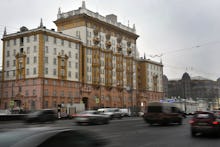 On Thursday, the Senate voted overwhelmingly to approve a bill imposing new economic sanctions on three countries — Iran, North Korea and Russia.
The new sanctions were, in part, a response to Russia's alleged interference in the 2016 presidential election, as Reuters reported. The sanctions target "crucial sectors" of Russia's economy, according to the Associated Press, including energy exports and weapons sales.
Russian President Vladimir Putin — who has denied that Russia carried out state-ordered cyber attacks meant to influence the election — had previously threatened retaliation against the new sanctions. Russia made good on those threats on Friday.
How did Russia react?
Russia's foreign ministry ordered that the number of U.S. diplomats in Russia be reduced to 455 by Sept. 1, the New York Times reported. That reduced number would match the number of Russian diplomats currently in the United States. Russia also seized two American diplomatic properties — a warehouse and the embassy's "recreational retreat" just outside of Moscow — according to the AP.
What will happen next?
The bill that imposes the new sanctions on Russia now heads to the desk of President Donald Trump, who has been dogged by an investigation into his campaign's ties to Russia.
As Reuters reported on Thursday, the new sanctions serve as a kind of test for Trump, who will either have to sign his approval on the sanctions, angering Moscow, or veto the legislation, angering his own party.
The bill also includes a provision that forbids Trump from lessening or lifting the sanctions on Russia unless Congress approves.
However, even if Trump vetoes the bill it could still become law, as it likely has enough support from lawmakers to override a veto. It passed the Senate by a margin of 98-2 and the House by a vote of 419-3.