3 key takeaways from Republicans' failure to repeal Obamacare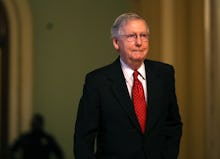 Senate Republicans' quest to finally make good on their seven-year promise to repeal and replace the Affordable Care Act died a public death early Friday morning, when three of their own members voted against a last-ditch attempt to pass something — anything — that could keep the repeal effort alive.
"It's time to move on," a visibly dejected Senate Majority Leader Mitch McConnell said just before 2 a.m. Friday morning of his party's effort to repeal and replace the ACA, better known as Obamacare.
There is much to be learned from Republicans' failed attempt — which now leaves President Donald Trump without a signature legislative accomplishment as Congress heads into the August recess.
Here are three key takeaways:
1. Republicans never actually knew what they wanted to accomplish.
Republicans have been really good at enumerating what they don't like about the ACA.
They think it's too expensive, that it lacks choice and that the coverage people do receive isn't sufficient. Over the past seven years, they promised they would repeal the law and replace it with something that solved all those problems.
Trump notably promised during the campaign that he would replace the ACA with "something terrific."
Yet when the time came, none of the plans Republicans offered did anything to accomplish those goals.
Each plan would have caused anywhere from 16 million people to 32 million people to lose their coverage, according to analyses by the non-partisan Congressional Budget Office. And none of the proposals tackled affordability issues.
The plans offered would have hiked costs for seniors and the poor. Even the plans the CBO said would lower premiums for some would have increased out-of-pocket expenses and covered fewer treatments.
Republicans knew this.
Hours before the final vote on the "skinny repeal" proposal Friday morning, they were out publicly trashing the proposal.
"The skinny bill, as policy, is a disaster," Sen. Lindsey Graham (R-S.C.) said of the plan hours before the vote, calling it a "fraud" and saying he would only vote for it if he had assurances from the House that it wouldn't become law as is and would instead be amended.
2. Trump couldn't effectively lobby for the repeal bills.
Trump made a promise to repeal and replace the ACA a central tenet of his presidential campaign. He said accomplishing that goal would be "so easy" and that he would get it done "quickly."
But Trump's boasting about how easy it would be to deliver Americans better health care was never backed up by actual policy proposals. Even his last-minute attempt to lobby for the bill included no specifics, nor any defense of the plans Republicans actually had on the table.
His lobbying, rather, came in the form of threats and arm-twisting Republican lawmakers. In fact, he even had one of his cabinet secretaries call and threaten to cut off support to projects that would benefit Alaska Republican Sen. Lisa Murkowski's home state.
Murkowski never budged, voting against all three Senate Republican repeal plans.
It was all a stark contrast to former President Barack Obama's lobbying effort in 2009 and 2010, in which he held hours-long town halls to answer questions from voters.
Obama even went directly to House Republicans, answering questions about how the plan would work.
3. The process matters.
Back in 2009, when Democrats were working to pass the Affordable Care Act, Republicans railed against the process Democrats were using to accomplish that goal.
Despite the fact that Democrats held days of public hearings and hours and hours of debate, Republicans accused Democrats of not being transparent.
"Make no mistake, if the people who wrote this bill were proud of it, they wouldn't be forcing this vote in the dead of night," McConnell said of the ACA process back in 2009.
Yet seven years later, Republicans did everything they accused their Democratic counterparts of doing — and then some.
The Senate held no public hearings on the bill. In fact, the "skinny bill" text wasn't even released until two hours before the now-failed vote. And McConnell, who accused Democrats of holding votes in the "dead of night," scheduled the "skinny bill" vote in the wee hours of Friday morning.
Ultimately, the process is what caused Sen. John McCain (R-Ariz.) to cast the deciding vote to sink the bill and dash Republicans' hopes of repealing and replacing the ACA.
"We must now return to the correct way of legislating and send the bill back to committee, hold hearings, receive input from both sides of aisle, heed the recommendations of nation's governors, and produce a bill that finally delivers affordable health care for the American people," McCain said in a statement explaining his "no" vote. "We must do the hard work our citizens expect of us and deserve."