'Splatoon 2' Switch DLC: New weapon is coming for free and very soon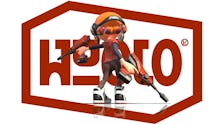 Splatoon 2 DLC coming to the Nintendo Switch is sweet music for many fans. The Inkbrush, a sword-sized paintbrush that flings paint in front of players, kicked off downloadable content for the Switch paint shooter.
Now Nintendo is continuing the freebies with a new, drill-looking range weapon.
Splatoon 2 Switch DLC: Say hello to the Dualie Squelcher
Nintendo's Splatoon Japan Twitter account brought us the details of what to expect from the new weapon: the Dualie Squelchers.
According to Google Translate, here's the tweet in English:
A new buki "Dual Sweeper" will be added at 11 a.m. on July 29. It appeared as a shooter in the previous work, but this time it was born into a maneuver. You have the slide function, with long range and shot capability intact. Sub is "point sensor", special is "super missile."
Nintendo's U.K. arm clues us into the item's English name.
Like other weapons, the Dualie Squelcher will come with its own sub and special abilities for when you're really killing it during a match. One can assume Splatoon 2 will get the DLC free, as the tweet doesn't mention pricing.
Splatoon 2 free DLC: More weapons and gear are incoming
The dual sweeper may be the latest DLC to come to Splatoon 2, but it won't be the last. During the Splatoon Direct earlier this month, we saw a glimpse of the upcoming Splat Brella: an umbrella that tosses ink and shields you from enemy fire like something out of Kingsmen.
Fans can expect new weapons and gear "for around a year," according to the Direct announcement, and "around two years of Splatfests." Let's hope year three isn't as boring as watching inkling paint dry.
July 28, 2017, 11:55 a.m. ET: This story has been updated
Check out more Nintendo news and coverage
Check out more video game content on Mic, including which Pokémon are actually the best and why black players can never seem to get custom characters that look like them. Learn more about how blind gamers are getting in on the fun and that Injustice 2 appears to be nerfing its female characters. See why we love Twintelle (and why we hate Twintelle) in the upcoming Arms, and don't miss our guide to dodging blue shells in the Mario Kart 8 Deluxe — you can thank us later.