3 takeaways from Anthony Scaramucci's first week in Trump's White House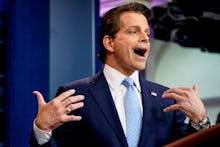 Anthony Scaramucci entered President Donald Trump's White House a week ago with a charge to be everything Sean Spicer, who'd resigned as press secretary earlier that day, was not. And, at least in his first press briefing, he seemed to be succeeding.
Where Spicer's first appearance before the press corps could charitably be described as gladiatorial, Scaramucci blew the news media a kiss. Where Spicer was prone to wobbling over his words, Scaramucci was smooth and limber. And where Spicer was infamous for his ill-fitting suits and for giving a presser with spinach in his teeth, Scaramucci was well-tailored and carefully-coiffed.
As far as optics went, the Mooch seemed every bit the anti-Spicer the administration likely hoped he'd be.
But a week is a long time in the Trump White House, and the former hedge fund manager wasted little time tangling himself in his own lattice of scandal and controversy, profanely airing his grievances against chief strategist Steve Bannon and chief of staff Reince Priebus — the latter of whom he kinda-sorta accused of being a leaker.
So what did we learn from Scaramucci's first week on the job as White House communications director?
He's quick to talk up his loyalty to Trump
Sure, he used to be a critic of the man he now works for — but those days are in the past and those tweets have been deleted. Now, the Mooch is fully on the Trump Train and very, very enthusiastic about letting everybody know how much he loves the president.
"I love the president and I'm very, very loyal to the president," Scaramucci said in his White House debut July 21.
That's important. Trump, it has been observed again and again, seems to value loyalty above all else — including from those that are investigating him, as fired FBI director James Comey has alleged.
Scaramucci, who is known to friends as "The Mooch," made clear in his first week that he sees it as his job to be a spirited defender of Trump, to be — above all else — in the president's corner.
"There are people inside the administration that think it is their job to save America from this president," Scaramucci said on CNN Thursday. "That is not their job."
For Scaramucci, that means "letting him be himself" — perhaps unleashing Trump to crank out lengthy Twitter rants like the one he dropped Saturday, the day after the Mooch debuted.
Like Trump, Scaramucci is very anti-leak
Scaramucci appears to share Trump's desire to aggressively quash leaks — or at least talk (and tweet) tough on leakers.
In more restrained comments on the subject, relatively-speaking, the new communications director has called leaking "un-American" and promised to "take dramatic action to stop those leaks."
In extraordinarily unrestrained comments on the subject that became public on Thursday, he ranted to the New Yorker's Ryan Lizza about wanting to "fucking kill all the leakers" and called Priebus "a fucking paranoid schizophrenic, a paranoiac."
He excused himself in a tweet for employing "colorful language," but his on-the-record explosion underscored the ways in which Scaramucci is like Trump.
Both are wealthy, big-talking New York businessmen and many have pointed out similarities in both mannerisms and speaking style, with Scaramucci on CNN Wednesday morning parroting one of Trump's Trumpiest lines: "We're going to win so much you are actually going to get tired of winning," the Mooch told Chris Cuomo.
And though he began his first week as communications director by blowing a kiss at the press, by the end of it he was taking a page out of his boss' playbook and blasting the media — for accurately reporting what he'd said.
The White House chaos continues
Despite his insistence that his administration is running like a "fine-tuned machine," Trump's White House six months in has been viewed largely as an exercise in chaos — with a legislative agenda stuck in the mud, a Russia scandal that has been intensifying and constant reports of feuding and general dysfunction among his staff.
Any hope that better messaging would be the medicine for what ails the young administration vanished quickly on Thursday when Scaramucci's rant to the New Yorker exploded on the Beltway.
As a rumored August staff shakeup loomed, Scaramucci — at least twice referring to himself in the second person — ranted to a reporter about cleaning house and his new administration colleagues, including Bannon.
"I'm not Steve Bannon, I'm not trying to suck my own cock," Scaramucci told Lizza by phone. "I'm not trying to build my own brand off the fucking strength of the President. I'm here to serve the country."
The comments presumably did not sit well with Bannon and Priebus — neither of whom gave comment on the remarks to the New Yorker — and it's not clear what impact they'll have on an already-tumultuous White House.
But they were apparently a hit with the president — no stranger to publicly torching those close to him behind their backs — who, according to Axios, "loved" the rant.