'Destiny 2' PC Beta and Recommended Specs: Get your rig together for Aug. 28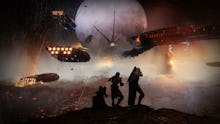 The Destiny 2 beta for consoles is over, but people who want to finally experience Bungie's loot shooter on their high-end gaming rig haven't gotten a chance to do that yet. Why would anyone want to play a shooter with a controller and a locked frame rate?
Seriously though, if you want to play Destiny 2 early on PC, you'll get your chance in about a month.
Destiny 2 PC beta set for Aug. 28
Bungie announced the PC beta for Destiny 2 will start on Aug. 28 for players who preorder and the next day for everyone else. It runs until Aug. 31. Unless something changes, it will be the same beta players got on consoles, which means that you'll get a single-player mission, a co-op strike and competitive multiplayer in the Crucible.
Polygon has a rundown of the hardware specs you'll need in order to run it smoothly. To see it running at a much higher frame rate than it ever will on consoles, check out the video below.
More Destiny 2 news and updates
If you can't wait to get back out on patrol with your Fireteam, check out the rest of our coverage for Destiny 2. We've got coverage about why Bungie opted not to use dedicated servers for the sequel, why there won't be cross-play and cross-saves for PC and what you can expect from the game's PC specs and Battle.net partnership. Additionally, you can check out the new Supers being added to the game, some details behind guided games and the new Crucible changes as well. Finally, you can check out our ongoing coverage of the beta here.