Sarahah is the hot new app for teens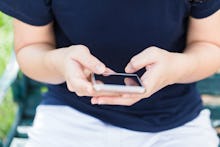 Snapchat is overwhelmingly the social media application of choice for teens, but there's a new app lurking for the number-one spot in the lives of the youth. Sarahah launched in February and has since made its way to the "top downloads" chart on Apple's App Store in the United States, U.K., Australia and Ireland.
How to use Sarahah
It's nothing like Snapchat or social media apps like Instagram, Facebook and Twitter. Sarahah, which New York Magazine says loosely translates to "honesty" in Arabic, is a commentary app promising anonymity. Users submit questions and other users anonymously comment and provide feedback.
"Sarahah helps you in discovering your strengths and areas for improvement by receiving honest feedback from your employees and your friends in a private manner," the app description reads.
For teens, there's a space for both Sarahah and Snapchat. Users create a Sarahah account on its website and receive a custom link, which is dispersed on any platform. With Snapchat's recent update to include links, an avid Snapchat user can send the link via their Snapchat story. Followers can click on the link and anonymously comment.
Sarahah's origins
Sarahah, which was just a website at its debut, was created by Saudi Arabian developer Zain al-Abidin Tawfiq, who came up with the idea so people can be more open in the workplace without fear of retribution from their supervisors.
"There's an issue in the workplace people need to communicate frankly to their bosses," Tawfiq told Mashable.
Tawfiq decided to branch out to personal networks, which led to the website gaining momentum in the Middle East and north Africa. Then, Tawfiq used a third party to create an app for the popular website — the app was available to consumers on June 13.
Similar apps
Sarahah isn't the first app of its kind: Yik Yak, Secret, Whisper and ask.fm are all apps promising anonymity. What makes Sarahah different is its appeal in various global markets.
The one caveat: Where there's anonymity, there's the risk of cyberbullying. This threat exists for Sarahah. In fact, one app reviewer calls it a "breeding ground for hate," reports Business Insider.
"I really try my best to create an environment that's positive," Tawfiq said.