While You Weren't Looking: 5 stories free from "skinny repeals" and the Mooch's "colorful language"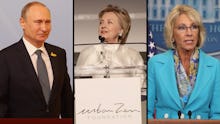 If you tried to follow the news this week, you were likely bombarded with everything from the collapse of the GOP's health care bill and President Donald Trump's new anti-trans policy, to White House communications director Anthony Scaramucci's claim that Steve Bannon engages in autofellatial sex acts.
However, a lot of other major changes in policy and politics were happening in our nation's capital. Here are just a few of them:
Lawmakers call on DeVos to continue to publish the list of schools under Title IX investigation
Democratic and Republican lawmakers alike are trying to pressure Betsy DeVos' Education Department to maintain its policy of listing schools under investigation for potential sexual harassment and violence problems. The Hill reported that lawmakers from both sides of the aisle sent a letter to DeVos and Candice Jackson, acting assistant secretary for civil rights, asking them to continue the department's policy of publicly listing schools that are being investigated for Title IX violations related to sexual misconduct.
The letter comes on the heels of a New York Times report earlier in July that suggested DeVos' Education Department was considering scrapping the policy.
Russian sanctions bill heads to Trump's desk with an uncertain outlook
Both the House and the Senate have now passed — with veto-proof majorities — a sweeping sanctions bill that, among other things, takes away the president's ability to ease certain Russian sanctions without approval from Congress.
The White House has not yet signaled whether Trump intends to veto the bill and force Congress to override him. Such a move would likely further speculation about Trump's alleged ties to the Russian government.
House Republicans are trying to get a second special counsel to investigate Clinton
A group of House Republicans is attempting to muddy the waters around the the Trump-Russia investigation by calling for a second special counsel — this time to investigate now-private-citizen Hillary Clinton.
NBC News obtained a copy of a letter sent by House Judiciary Committee Republicans who want the Justice Department to open a second investigation into Clinton, the scope of which includes everything from her private email and White House leaks to Susan Rice, former national security adviser under President Barack Obama.
Undocumented activists get arrested protesting immigration policy
A group of undocumented activists were arrested in Austin, Texas, on Wednesday during a protest against the Trump administration and Texas' anti-immigrant policies.
Texas leads a group of 10 states attempting to force the Trump administration to end the Deferred Action for Childhood Arrivals program — an Obama-era policy that grants temporary status to undocumented immigrants brought to the U.S. as children.
The activists argued that all undocumented people living in the U.S. should be free of the fear of being deported.
Progressives hold training for the next generation of candidates
The Progressive Campaign Change Committee, a Washington, D.C.-based organization, held a big training for the next generation of progressive political candidates. More than two-thirds of attendees were first-time candidates looking to challenge GOP incumbents in upcoming elections.
"Someone who is an activist in their community doesn't necessarily know what to do to run for office and win," PCCC cofounder Stephanie Taylor said in an interview. "Candidates can go through these exercises, build confidence and go back home and do these things for themselves."