'Madden 18' Player Ratings: What is your team's first-round pick rated?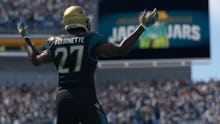 The player ratings for Madden 18 are making their way out to the public and one of the first groups to have their numbers revealed were the rookies from the 2017 NFL Draft.
ESPN.com published a list of all the players drafted in the first round back in April.
Madden 18 Player Ratings: First round picks rated
• Cleveland Browns — Myles Garrett (Overall — 83)
The people put in charge of rating the players didn't go the easy route. In the past, we've seen player ratings go according to their draft position. That wasn't the case in Madden 18.
Top-pick Myles Garrett is the highest-rated rookie, but No. 2 pick Mitchell Trubisky isn't right behind him. The next highest-rated player is the No. 19 pick, O.J. Howard.
You aren't likely to get an argument from anyone on Howard's rating. His skill set and athleticism scream instant impact in the passing game for the Bucs this season.
The two lowest-rated players in the first round are the Cards' Haason Reddick, Washington's Jonathan Allen and the Dolphins' Charles Harris. All three are rated a 73.
Madden ratings change throughout the season based on the players' real-life performance. We'll see which players see a rise or fall in their ratings once the real games begin.
More sports gaming news and updates
Love sports games? Check out more content from Mic, including tips for leveling up your NBA 2K17 MyPlayer, playing quarterback in Madden 17, our review of MLB The Show 17 and the classic Nintendo sports games we want to see on the Switch.