Protesters gather in Long Island ahead of Trump's speech on gang violence and immigration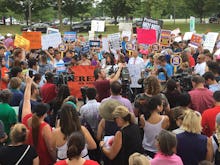 BRENTWOOD, N.Y. — Hours before President Donald Trump was scheduled to speak on Long Island Friday afternoon, protestors were already out in force to greet him.
Trump is set to discuss gang violence, undocumented immigrants and his plans to demand that so-called "sanctuary cities" be denied federal grant money.
Demonstrators, many of whom were holding signs advocating for immigrant rights, chanted "repeal and replace" as they gathered outside of the Suffolk County Community College in Brentwood, New York, on Friday.
For Flor Villanueva, 15, a Brentwood resident, it was important to show up and oppose what she sees as Trump using her community to further an anti-immigrant agenda.
"I'm from the Brentwood community and I'm here to tell Trump that he can't use what's going on in this community to help support what he's doing," Villanueva told Mic's Celeste Katz. "Both my parents came from El Salvador and they came here to give me and my brothers and sisters education and a better life."
As Mic has previously reported, activists who work on gang prevention and intervention have already expressed concern that Trump's rhetoric only serves to make immigrant youth more vulnerable to gang recruitment by creating an environment of fear and isolation for immigrant communities.
Immigrant rights organization Make the Road New York, which helped to organize Friday's demonstration, released a statement opposing Trump's visit to Long Island, saying: "We are saddened and outraged to see President Trump seek to use local tragedies for political gain — and particularly to fuel his hateful, anti-immigrant agenda ... we know that Trump's divisiveness and xenophobia will not make us safer."
In past speeches, Trump has seemed to conflate undocumented immigrants and gang violence. Speaking at a rally on Tuesday in Youngstown, Ohio, Trump referred to "predators and criminal aliens" who "take a young, beautiful girl, 16, 15, and others and they slice them and dice them with a knife, because they want them to go through excruciating pain before they die."
"These are the animals that we've been protecting for so long," Trump told the crowd. "Well, they're not being protected any longer, folks."
Villanueva asserted that the Salvadoran immigrant community and the MS-13 gang, which has made headlines for violence in Long Island's Suffolk County, are not one and the same.
"MS-13 is only a small part of the Salvadoran community; it does not define who we are as a group," Villanueva said. "He can't really say that all Salvadorans, all Hispanics, are from MS-13, cause we're not."
Connor Lennon, a 17-year-old transgender boy from East Islip, Long Island, who was also at the demonstration outside of Suffolk County Community College on Friday, said that he had shown up "to protest hate."
"I'm transgender, so I guess a lot of what's happening right now is hitting very close to home," Lennon said. "It's a personal attack on who I am, and who many people are."
"It's pretty freaking awesome," Lennon said of the crowd that had shown up to protest on Friday. Asked whether he thought it would send Trump a message to see the demonstration, Lennon said, "He doesn't really seem to hear anything, but we can hope. We can hope."
Mic's Celeste Katz contributed to this report.