Everything means nothing to Arcade Fire on their cynical new album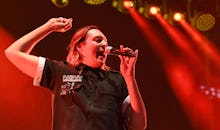 I probably won't listen to Everything Now ever again but it's probably not done making my life substantially worse. Arcade Fire's just-released fifth album and first for Columbia isn't just a catastrophic record; it feels like a betrayal, a smarmy work that raises the possibility that the band's previous peaks — 2004's Funeral and 2010's The Suburbs — played me for a sucker. But on a more basic level, Arcade Fire has a tendency to respond to its more vocal critics.
After the Washington Post's Chris Richards panned the group's bloated but redeemable fourth album — 2013's double LP Reflektor — Arcade Fire frontman Win Butler suggested in Rolling Stone that Richards had a conflict of interest because Arcade Fire used to open for the writer's old band, Q and Not U.
When I saw Butler do a Q&A after a viewing of The Reflektor Tapes documentary in 2015, he groused about Pitchfork's quibbles over the song "My Body is a Cage" in the site's largely positive review of 2007's Neon Bible eight years prior. Most glaringly, the band reacted to a June Stereogum post titled "Remember When Arcade Fire Were Good?" by creating a fake Stereogum site for a "Premature Premature Evaluation."
While Arcade Fire's management has previously characterized the group as "a small band punching above [its] weight," it sure loves to punch down.
There is no conceivable way in which Arcade Fire is a small band. From a numbers standpoint, it has six core members. It's also won a Grammy for Album of the Year, debuted at No. 1 on the Billboard albums chart twice and headlined Coachella twice. And the above quote about Arcade Fire "punching above [its] weight" is taken from a 2013 Hollywood Reporter article headlined "Arcade Fire's Reflektor: Anatomy of a Rollout." The Hollywood Reporter regularly dissects marketing plans for TV and film, but usually doesn't cover the music industry's inside-baseball machinations unless it's the proverbial World Series.
Given that it's told from the perspective of Arcade Fire's management and publicists, the Hollywood Reporter piece reads more like another savvy part of the protracted Reflektor rollout rather than an objective assessment. It is, however, a crucial read for illustrating the dissonance that has defined Arcade Fire for the past five years: Its team wants to present the band as a humble yet daring group of artists making a potentially alienating record despite taking measures to ensure it's too big to fail.
The critical community appears hellbent on exacting retribution for Reflektor gaming the system and earning so many hosannas. But judging from the rollout for Everything Now, Arcade Fire and its team appear to have interpreted Reflektor's success as a mandate for more of the same — Everything Now's rollout has been every bit as exhaustive, in every sense of the word.
Even beyond the endlessly teased singles, there's been an avalanche of new content from the band since mid-May. It created some genuinely funny fake-news pieces, but also traded quips with KFC's Twitter and slapped its imprint on 2017 pop-culture embarrassments like so many try-hard quote-tweets. The intent seems clear: shoring up the old guard by shamelessly repeating the ironic pose and media over-saturation of U2's late-'90s PopMart Tour, while catering to the younger audience by emulating the cynicism of Father John Misty's Pure Comedy.
Arcade Fire has never lacked ambition, and all of this fails if there's any doubt the band is 100% committed to postmodernist snark. But more so than any of the dud singles, the definitive moment of Everything Now's rollout came when word leaked about a "hip & trendy" dress code for an Apple Music taping in Brooklyn. It was standard stuff for live filming and, apparently, it wasn't the band's idea. But if any "small band" was going to have a dress code, it would be Arcade Fire, given how it did the same exact thing in 2013. After the inevitable public backlash for this new dress code, it instantly retracted the rules and tried to win back some goodwill with a "#dresscodegate" hashtag.
Since Reflektor, one gets the sense Arcade Fire has been carefully calibrated to be something it's not, whether it's a modern-day U2, an alternate version of LCD Soundsystem or even just cool rather than reliably passionate. Given its position, you'd at least think the band would be beyond wasting its time reacting to every piece of bad press. Now the dissonance is unbearable: Everything Now is a record that punches down on everyone, a gambit that requires Arcade Fire to fully commit to playing the heel. And it just doesn't have it in it.
The result is the first Arcade Fire album to take on the world and get trounced. Despite enlisting Daft Punk's Thomas Bangalter and Pulp's Steve Mackey, singles "Signs of Life" and "Electric Blue" scale Arcade Fire down to a tinny, bedroom-based electro-pop act; it would pass for decent singles from DFA second-stringers like Holy Ghost! or the Juan McLean. "Good God Damn" tries to merge the Rolling Stones' "Miss You" and Leonard Cohen, but instead manages to sound like a blog-rock band trying to rip off Spoon's "I Turn My Camera On" and the National. I can't believe an Arcade Fire album made me think of Airborne Toxic Event in 2017, but we hit a new bottom every day this year.
And despite being almost exactly as long as Funeral and Neon Bible, Everything Now is sequenced like a record of scraps; take away the singles and the "Everything Now" reprises and there are only seven new songs left to discover. One of them is the 100-second "Infinite Content," which impresses itself with the double meaning of "content" like a high-school sophomore who is going to become insufferable the moment he discovers Infinite Jest.
And then there's "Infinite_Content," which does it again, only with a country twang. These come immediately after "Chemistry" — and the only reason I don't call that track the worst song Arcade Fire has ever made is because its closest competitor comes three minutes earlier (the faux-reggae lark "Peter Pan"). Iconic artists can be humanized when they fail this loudly, à la the throwaways on side D of Sandinista! or All Things Must Pass. Instead, this stretch is stuck right in the middle of Everything Now, which might be proof that Arcade Fire is maybe playing 4-D chess and trying to prove just how committed it is to mocking capitalism by tanking its major-label debut.
But Arcade Fire only plays checkers: 2004's "Wake Up" and 2007's "Intervention" have the awe-inspiring power and craft of a nuclear warhead and just as much finesse. Even Reflektor could likewise impress by simply overwhelming the listener with its largesse. Everything Now's title track and "Put Your Money on Me" signal a shift toward pure pop by evoking ABBA in their typically blunt way — the former nicking "Dancing Queen," the latter conflating "Take a Chance on Me" and "Money, Money, Money." But they're constructed like Ikea furniture — strictly following a template; functional and lacking any personal input.
The bigger issue isn't that Arcade Fire sounds diminished on Everything Now, it's that it sounds petty. Whether it was fighting back against death (Funeral), theocracy (Neon Bible) or suburban ennui (The Suburbs), there was no question about Win Butler and Régine Chassagne's investment. On those earlier records, they sing like they're personally bearing the weight of the world on their own, so they could show us how to do the same. Arcade Fire only writes about big subjects in non-illusory terms, and while the internet is just as fat a target as anything it's previously covered, it's a moving target — and Arcade Fire has an uncanny knack for cracking wise about Twitterverse ephemera the very moment the subjects are past their freshness date.
Say what you will about Father John Misty, but he lives this shit on the daily. Arcade Fire may have felt the impulse to make an album about The Way We Live on the internet, but there's no indication it wanted to do the research or care about the people who do.
As with all of the message songs on Everything Now, "Creature Comfort" is dispassionately sung and as banal as its title. It's a slight update on Neon Bible's "(Antichrist Television Blues)" that uses a young woman as a messianic parable, someone who will suffer not for our sins, but for our RTs. After expressing awareness of — but not necessarily empathy for — people who harm themselves and "wait for the feedback," a verse retells the story of a girl who was going to commit suicide before she "put on our first record."
Funeral is an album of astonishing power, one that undoubtedly changed lives — but given the reaction to Arcade Fire's increasingly pompous tone, maybe now's not the time for that? Even worse is the possibility that it's mocking this woman. She is probably no more real than the subject of Eminem's "Stan," but at least Em manages to sound profoundly affected and unsettled by the dangerously unbalanced relationship between artist and fan (and that's on a record that otherwise finds him fantasy-murdering his wife and making homophobic skits about Insane Clown Posse). Instead, the lack of engagement with its subject matter makes Arcade Fire seem like it's indulging in toxic self-regard and detached from the people who placed genuine faith in its music.
At this point, it's unclear whether Arcade Fire just lacks any kind of self-awareness or if it just doesn't care, and is willing to provide superficially Meaningful Rock Music to the silent majority who aren't concerned about the optics of a PR campaign. Everything Now will still undoubtedly debut at No. 1 on the Billboard albums chart, but no matter how well-written the negative reviews happen to be, I get the same short-lived feeling of righteous indignation provided by Shattered: Inside Hillary Clinton's Doomed Campaign. Arcade Fire's best music is defined by its earnest and earned belief in our greater good, an ability to find love in the most hopeless of places — judging by the towering Everything Now highlight "We Don't Deserve Love," which at least offers commiseration and reserves judgment for themselves, it still is.
But "We Don't Deserve Love" doesn't redeem Everything Now so much as reflect how ill-suited Arcade Fire is to making a record like this. Maybe it grew weary of its image as humorless try-hards, but its attempts at cleverness exposes a barely concealed elitism. The worst thing you can say about Everything Now is that Arcade Fire doesn't even believe its own bullshit here, but that also seems like the best-case scenario. We can only hope it's a cry for help from a band that bullied its way to a position it doesn't even want anymore — and is dying to have its bluff called.
July 28, 2017, 6:34 p.m.: This post has been updated.
Mic has ongoing music coverage. Please follow our main music hub here.