How abortion on television has changed in the past 55 years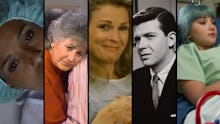 Just how far have depictions of abortions on TV come? A new database is here to show you.
The University of California San Francisco's Advancing New Standards in Reproductive Health research group's Abortion Onscreen project seeks to study the cultural conversation around abortion. The latest addition to the effort is a database that tracks every abortion portrayed or discussed in American TV and film — including instances where a character revealed an abortion in their past.
Using that data, and supplementing it with the notable times that TV characters considered having an abortion but ultimately chose not to (which Abortion Onscreen doesn't track), we can paint a vivid picture of how depictions of the procedure have changed. With that, we're also able to see how both American law and broader cultural attitudes have developed as well. Here's how treatment of abortion on TV has grown and normalized in the 55 years since the issue first appeared on the small screen.
CBS' The Defenders makes history (1962)
The Defenders was the Law & Order of its day: a legal procedural where a dad-and-son legal partnership, the Prestons, defended various clients. No episode was more attention-grabbing than 1962's "The Benefactor," which saw the attorneys defend an doctor who performs abortions.
At the time, abortion was illegal except when the life of the pregnant person was in danger. Abortion Onscreen's database lists it as the very first TV plot line where an abortion took place — though this was long before they'd actually be depicted on-screen. On The Defenders, in the courtroom scenes, the abortions are only discussed in past tense, and the lawyers even question the woman who was on the operating table when the doctor performing an abortion was arrested.
Despite the taboo nature of the subject at the time, "The Benefactor" argues strongly for abortion rights. The Prestons defend not just their client's innocence, but challenge the existing law and the personhood of a fetus. The episode was so controversial that The Defenders' regular advertisers all pulled out. That particular drama would later be incorporated into Mad Men's own "The Benefactor" episode, in which Don Draper tries to sell lipstick client Belle Jolie on buying the now-free ad time.
Soap operas lead on choice (1960s and '70s)
For the rest of the 1960s and into the '70s, still-illegal abortions were mostly featured on soap operas — on a 1964 episode of NBC's Another World and a 1965 episode of ABC's Peyton Place, specifically. (Marcus Welby, MD, an ABC medical drama, also took on the subject.)
It wasn't until 1973 that another soap, All My Children, made progress: TV's first legal abortion post-Roe v. Wade. In the storyline, Erica Kane, the iconic lead character played by Susan Lucci, is working as a model and becomes pregnant. She chooses to have an abortion to continue her career. It was a plot development that, in a 2013 interview, Lucci said scandalized parishioners in her Roman Catholic church.
Despite the intensity of the story — Erica's decision infuriates her husband and leaves her with a dangerous infection — Lucci claims she wasn't nervous about it. "I didn't feel any trepidation," she said in the 2013 interview. "It seemed quite right."
Maude's Dilemma (1972)
Though All My Children had the first legal TV abortion after the Supreme Court decision, it wasn't actually the first legal abortion portrayed on television. That title belongs to Maude, whose titular character Maude Findlay (played by Bea Arthur) had one in New York, where abortion was legal, in 1972.
The story was told in a two-parter called "Maude's Dilemma." At 47 and already a grandmother, Maude's pregnancy is unexpected, and brings up a whole host of issues for her and husband, Walter (Bill Macy), to consider. They had already lived through the child-rearing part of her life; were they ready to do it again?
Already, you could feel a change in response — as reported in a 1992 retrospective piece in the Chicago Tribune, only two of 200 affiliate stations refused to air the episodes. Compare that to the 10 of 180 affiliates that had pulled "The Benefactor" a decade earlier. But the decision still drew angry letters and protests; the Tribune, looking back, called the Maude episodes "a watershed in TV history, an event that brought the battle over choice into the prime-time arena." Though Erica Kane's decision followed the next year, it wasn't until the 1980s that abortions started happening on TV with some frequency.
The early 1980s address choice head-on
After years without any TV abortions post-All My Children, the story returned to screens in the otherwise conservative 1980s. A pair of early '80s TV movies dramatized the decision: 1981's The Choice and 1982's My Body, My Child. Both used their female protagonist's right to choose as the core of their plots — unlike Erica or Maude, who were characters that had a relationship with the audience before and after their abortions, these women's stories were all about this one decision.
The fall of 1982, though, saw the issue return to primetime drama series in a big way. Teen dramedy The Facts of Life featured main character Natalie (Mindy Cohn), in an article for her school paper, fabricating a fellow student's abortion for the purpose of making a stat-heavy piece on the medical procedure more personal. (Unbeknownst to her, a fellow student actually did have an abortion, and thinks Natalie was writing about her.) Days later, Dallas would feature an abortion episode of its own, while St. Elsewhere aired another in mere weeks. Both centered on a character's choice of whether to terminate a pregnancy.
The rest of the '80s would see the topic arise with relative frequency; Maude and Erica's groundbreaking choices finally led to progress. But it was one character's decision not to abort — and the criticism she received for it — that caused the next major public battle on the subject.
Murphy Brown vs. Dan Quayle (1991-1992)
By the 1990s, abortion on TV was common. Shows were making inroads on the subject like they hadn't before. But in 1991, during its third season finale, Murphy Brown told a story that would start a new culture battle on the issue that would grow to involve the vice president of the United States.
At the end of the third season, newswoman Murphy Brown, the titular character played by Candice Bergen, learns she's pregnant. (Like Maude, the 40-something Murphy was surprised by her pregnancy.) Her decision became a cliffhanger of sorts, with rumors that she'd get an abortion, have a miscarriage or that the pregnancy test would wind up being wrong. The story was resolved in the two-part season four premiere that fall: After considering her options, Murphy chooses to raise her will-be child as a single mother.
Almost a year later, during a campaign speech, Vice President Dan Quayle criticized the choice to have Murphy raise her child alone — even though she chose not to abort. He said the decision was "mocking the importance of a father." In a rare moment of unity, as the Los Angeles Times reported then, abortion choice opponents and advocates both sprung to the character's defense.
In 2013, Bergen described the ensuing controversy as a "firestorm" to HuffPost. "It was in campaign coverage for six months after that, and the front page of the New York Times and the Post," she added. "That was fairly intense. We had to put security on the tape night of our show for people to go through."
Though the character didn't terminate her pregnancy, the Murphy Brown debate was the last of the major, public battles over TV depictions of choice, as episodes about the procedure became even more common in the '90s and early 2000s.
Degrassi's own evolution (1980s through 2010s)
One franchise that has aired throughout the past several decades, Degrassi, serves as a kind of microcosm of the way depictions of abortion on TV have changed. Back in 1989, in the very first episodes of Degrassi High, character Erica Farrell (Angela Deiseach) learns she's pregnant. She chooses to abort despite major opposition, even initially from her sister, Heather. By the two-parter's end, though, the sisters make up, and Heather walks with Erica into the abortion clinic, hand-in-hand, through a throng of protestors. (She's later the victim of harassment from a fellow student because of her choice.)
This was the first depiction of a main character on a teen drama having an abortion; Degrassi got there years before Beverly Hills 90210 did in 1996. Years later, in Degrassi: The Next Generation's 2004 episode "Accidents Will Happen," 14-year-old Manny Santos (Cassie Steele) makes the same choice as Erica. But it wasn't until just this year, in the third season of Degrassi: Next Class, that the franchise followed a character into the room for the procedure.
In "#IRegretNothing," Lola Pacini (Amanda Arcuri) chooses to have an abortion after getting pregnant by her friend and one-time hookup, Miles Hollingsworth. Not only do we see Lola just before the procedure, she also defends her choice publicly in a YouTube vlog — a very timely storytelling choice that demonstrates how much more open discussions of this issue have become.
Contemporary abortions on TV (2010s)
In the present, Lola isn't alone in her experiences. Abortion on TV has become a fairly regular plot point, treated both as a dramatic decision for a character (see: Diane Nguyen's abortion in season three of Netflix's BoJack Horseman) and a relatively routine, if still draining, procedure (Paula's drama-free decision in the second season of the CW's Crazy Ex-Girlfriend).
There are still battles, though. While Scandal aired Olivia Pope's remarkably frank abortion seemingly without issue in 2015, showrunner Shonda Rhimes revealed later that ABC tried to stop the depiction. But whether it's on a soap like Scandal, a telenovela-inspired dramedy like Jane the Virgin or a teen series like Degrassi: Next Class, abortion is a fact of many TV characters' lives these days. Such stories make The Defenders feel all the further away.
Yet without The Defenders, and without Erica Kane, Maude Findlay, Murphy Brown and more, TV's modern concept of abortion would likely not be as progressive as it is. Abortion still remains a fiercely debated issue, especially at a time when abortion rights face an uncertain future. But at least on TV, progress marches on.
Mic has ongoing abortion coverage. Follow our main abortion hub.