Your guide to drinking, eating and exploring Kentucky's Bourbon Trail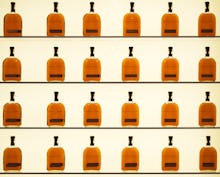 Kentucky's Bourbon Trail, with its rolling hills, drop dead gorgeous drives, excellent bars and restaurants and world-class distilleries, has all the trappings of a memorable booze-themed vacation. In spite of the heat, summer is a great time to get a feel for this region, as many tourist-oriented activities like special exhibitions, bourbon dinners and cultural events are in full swing. Louisville, Kentucky, might be hot and humid, but don't let those high temperatures scare you away — everywhere you go is bound to have the air conditioner on full blast and a refreshing mint julep or two to keep you nice and cool. For the opening of this summer's Dale Chihuly exhibit at Maker's Mark, I traveled to Louisville with Beam Suntory (the parent company of Maker's Mark), who covered my travel and lodging costs.
Here's everything you need to know to hit the Trail with style.
Where to stay
First things first: No matter how much whiskey you're planning to guzzle, you're going to need a comfortable place to lay your head. Creative types should check out the 21c Museum Hotel, an innovative, cozy downtown boutique that doubles as a cutting-edge modern art gallery. As if the lobby's eye-catching design and full gallery weren't enough, each of the 91 affordable guest rooms come with original pieces to keep you inspired all night long.
The location is also as prime as it gets: 21C is both a short drive from the airport and within walking distance of top-rated restaurants, cocktail bars, museums and other cultural attractions to help you get the most out of your Louisville immersion, not to mention the hotel's fantastic restaurant and bar, Proof on Main.
If it's a taste of history you're after, book your stay at the iconic Brown Hotel. Home to the Hot Brown, Louisville's signature open-faced turkey sandwich topped with bacon and smothered in rich Mornay sauce, this elegant landmark property has been hosting travelers since 1923.
Its Georgian Revival facade gives way to an opulent interior complete with crystal chandeliers, soaring ceilings and a lobby bar dressed to the nines. The 293-room Brown also puts you in the middle of the action. It's a quick jaunt to both Chestnut Street's restaurants, bars and shops and right next door to the legendary Brown Theater.
How to get around
Since so many visitors come to town with whiskey on their minds, the area offers a ton of themed bus trips to get you from distillery to distillery. Mint Julep Tours, with its all-inclusive custom, public, and exclusive tour options, friendly and smart-as-a-whip guides plus full day itineraries, is a great place to start. Depending on the date and time, spirit-happy riders can tour three different distilleries and eat lunch at a local bourbon-focused restaurant along the way. Other local tour companies with similar packages include Executive Transportation's Kentucky Bourbon Trail Distillery Tours, R&R Limousine and Thoroughbred Limousines — and private car services are available if you're able to drop the cash. Renting a car and DIY-ing it is also a possibility, but make sure you have a both a trustworthy designated driver and reliable map on board, since GPS service can be spotty in some more remote areas.
Off the trail, many of the city's restaurants, bars, and sights are walkable from downtown hotels. And if you're venturing outside the neighborhood, a cab or ride-share is an affordable, easily obtainable and safe choice.
Must-see distilleries
To get the most out of your trip, you're going to want to give yourself at least three days. The distilleries aren't exactly on top of each other and considering the time it takes to tour, taste and enjoy, most deserve a bit more exploration than your standard sightseeing venture. Here are some stops to consider when creating your boozy itinerary.
Start small by hitting up Louisville spots like Bulleit, Angel's Envy and the urban offshoots of Evan Williams and Jim Beam. Housed in the historic Stitzel-Weller Distillery, Bulleit has been a local favorite since opening its doors in 1935 and their peppery rye whiskeys are a great way to prime your palate. Angel's Envy's state-of-the-art facility also provides a unique experience, complete with a taste of their delicious port barrel-finished bourbon (just make sure to call ahead, since their intimate tours are reservation-only). And both Evan Williams' and Jim Beam's smaller Louisville locations offer an immersive look inside these whiskey powerhouses without ever having to leave the city limits.
When it comes to distilleries outside of town, one particularly timely must-see is Maker's Mark. Located about an hour's drive from Louisville in Loretto, Kentucky, this expansive campus is one of the Trail's top tourist draws—and for good reason. It was here that bourbon tourism got its start, dating back to the 1950s when the owner's wife, Marge Samuels, decided that the pristinely preserved Victorian-era plot could do much more than make spirits. Going off her instincts, the family built the area's first distillery visitor's center in 1967, planting, as whiskey historian Fred Minnick wrote in his groundbreaking Whiskey Women, "the first seed in the increasingly popular Kentucky Bourbon Trail."
These days the distillery is continuing Samuels' vision by hosting an exhibition of glass artist Dale Chihuly's latest stunners. These whimsical and intensely colorful sculptures are spread throughout the grounds. In April, Maker's also added chef-owner Newman Miller's Southern-tinged farm-to-table joint Star Hill Provisions, the first independently operated restaurant and cocktail bar to call any Kentucky distillery home.
Just 18 miles away from Maker's you'll find Bardstown, a little town with more bourbon than you can shake a finger at. A visit to Heaven Hill, America's biggest family-owned bourbon producer, is a no-brainer here, where even the mini-tour leaves you with a good sense of the famed distillery's history. And while the Trail is rife with giant distilleries with impressive international reach, consider checking out how the little guys do things over at nearby Willett, a smaller, privately owned craft distillery that's been cranking out the good stuff since the 19th century.
Make sure to keep your stamina up for day three, best spent roaming Versailles' famed Woodford Reserve, a National Historic Landmark, for a taste of velvety smooth perfection in a serene setting. Frankfort's Buffalo Trace, about 20 minutes from Woodford, is also a quality stop. Their lineup includes a bevy of best-selling whiskeys, including the coveted Pappy Van Winkle. You probably won't be able to taste the rare stuff, but seeing where and how it's made is (almost) just as good. Twenty-five minutes down the road takes you to Lawrenceburg, where Wild Turkey, in business since 1869, offers a wide array of flavored and unflavored bourbons to fit any palate. And if you're a Southern Gothic fan, you can't forgo the 15-minute trip over to Four Roses, also in Lawrenceburg, and said to be writer (and notorious whiskey lover) William Faulkner's favorite brand.
Where to eat & drink
Spend a few minutes tooling around Louisville and you'll soon realize there's no shortage of fantastic food options in this town. Proof on Main in the 21C Museum Hotel, with its vibrant surroundings, friendly staff and menu of innovative New American farm-to-table dishes with just a hint of Southern flair, is unparalleled. And after your generously portioned meal, be sure to duck into the attached Proof Bar, a finalist for the Best American Hotel Bar at the Tales of the Cocktail Spirited Awards, for a craft cocktail or any one of the bar's 75 different bourbons, including exclusive single-barrel expressions from legends like Old Forester, Buffalo Trace and Four Roses you won't find anywhere else.
A four-course prix fixe dinner featuring dishes like seared foie gras with sassafras funnel cake and togarashi-spiced catfish at celebrity chef Edward Lee's beautifully appointed 610 Magnolia in charming Old Louisville won't disappoint. And for a casual bite, try Against the Grain Brewery & Smokehouse, a downtown brewpub hawking smoky, saucy Southern BBQ along with a huge selection of creative house-made drafts (Kentucky Ryed Chiquen, anyone?). And even if you haven't booked a room, stop into the endlessly elegant Brown Hotel Lobby Bar to indulge the city's beloved Hot Brown and a classic Mint Julep.
During the summer, Louisville's nightlife is in full swing, with highlights including Haymarket, a raucous, no frills bar and music venue stocking vintage pinball machines, nearly 400 whiskies including rarities like Pappy Van Winkle and single-barrel exclusives from the likes of Maker's Mark, Heaven Hill and Willeit. Garage Bar in the trendy NuLu neighborhood is another sure bet, its breezy patio perpetually packed with folks tossing back local beers or cocktails over charred wood-fired pizzas.
Things to do between drinks
The only thing Kentuckians love as much as bourbon? Sports. Take a break from the bourbon and head to the Louisville Slugger Factory and Museum where visitors can peruse baseball memorabilia, get an inside look at how Major League bats are constructed and snap a selfie with a 120-foot replica of Babe Ruth's own slugger.
Summertime travelers can also grab a ticket to see the aptly named Triple A Cincinnati Reds affiliate Louisville Bats play some Minor League ball nearby. And if you're still not sports'ed out, you can celebrate the most exciting two minutes in sports at the Kentucky Derby Museum, a family-friendly collection of interactive exhibits including a walking tour of the famed Churchill Downs.
The sports-adverse will be happy to know that Louisville's not all balls and bats. As Kentucky's cultural center, the city is home to a thriving creative and performing arts scene. The world-class Kentucky Center for the Performing Arts has a full schedule of concerts, film screenings, dance, theater and other events, and the extensive modern collection at the Speed Art Museum, the state's oldest and largest art museum, will keep you happily wandering for hours — an ideal way to work up a thirst for a little more of that delicious Kentucky bourbon.