In MS-13 speech, Trump was cheered for endorsing brutal practices used by police arresting "thugs"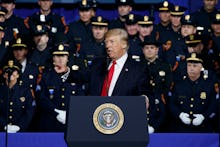 BRENTWOOD, N.Y. — President Donald Trump scored applause Friday while talking to police about the fight against the brutal MS-13 gang by saying he doesn't mind if suspects get roughed up during arrests.
"When you see these thugs being thrown into the back of a paddy wagon, you just see them thrown in, rough, I said, 'Please don't be too nice,'" Trump said. "Like when you guys put somebody in the car, protecting their head, you know, the way you put [your] hand, like don't hit their head, and they've just killed somebody... I said, 'You can take the hand away, OK?'"
Trump, whose tough talk won him applause from the uniformed officers assembled behind him at Suffolk County Community College, promised to "eradicate" MS-13, a Central American gang that has terrorized the New York suburbs with a brand of violence rarely seen in the area before.
"We're going to destroy the vile criminal cartel of MS-13," Trump promised during a speech peppered with graphic references to a gang whose members, he said, feel murder with guns isn't painful enough.
Instead, Trump said, MS-13 members try to inflict as much pain as possible when killing their victims: "They knife 'em and cut 'em and let 'em die slowly," the president said. "These [gang members] are animals."
In late April, Trump dispatched his attorney general, Jeff Sessions, to New York's Suffolk County to address the fight against MS-13. While speaking at a federal courthouse in Central Islip, Sessions vowed to "demolish" the Central American crime organization.
Protesters gathered across the street ahead of Trump's Brentwood appearance.
One young demonstrator, Flor Villanueva, 15, of Brentwood, said in an interview that it's unfair to lump all Latinos or immigrants in with gangsters. "MS-13 is only a small part of the Salvadoran community; it does not define who we are as a group," she said.
Just feet away, flag-waving counter-protesters chanted Trump's name.
En route to Long Island, Trump policy adviser Stephen Miller told reporters, "Our big focus on MS-13 is getting the resources we need to accomplish the mission. What does that mean? It means we need more ICE officers."
Miller, per a pool report, continued:
The message of tolerance toward illegal immigration is the number one boon to smugglers and traffickers. That permissive approach, we've seen the results of that approach. The results have been deadly and horrific. By sending a message that you won't tolerate illegal immigration, it will shut down the smugglers. You've already seen a huge increase in the price that people have to pay to get smuggled, which in and of itself is an enormous deterrent.
Before wrapping up his tough talk on MS-13, Trump also briefly referenced the dramatic, close defeat in the wee hours of Friday morning of a Republican attempt in the Senate to repeal certain aspects of the Affordable Care Act, lamenting, "You can't have everything."
July 28, 2017, 3:18 p.m.: This story has been updated.