The first Democratic candidate has entered the 2020 presidential election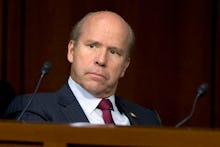 And they're off.
The first Democrat has entered the 2020 presidential election in the hopes of challenging President Donald Trump. Maryland Rep. John Delaney, who represents a Maryland House seat that encompasses the suburbs of Washington, announced his candidacy in a Washington Post op-ed on Friday.
"It is time for us to rise above our broken politics and renew the spirit that enabled us to achieve the seemingly impossible," Delaney wrote. "This is why I am running for the Democratic nomination for president of the United States."
Delaney's bid is quixotic, to say the least.
A moderate Democrat and wealthy businessman who was first elected in 2012, Delaney has served in the House in relative obscurity.
And he plans to retire from his congressional seat after his term ends in 2018 to pursue his presidential bid — which will make it even harder for him to grow a profile in the lead-up to the 2020 election.
His announcement comes curiously early, with FiveThirtyEight forecaster Harry Enten estimating it could be the earliest candidacy announcement on record since at least 1972.
Delaney said he is retiring in order to run for president "with the commitment it deserves."
"No games, no cat-and-mouse, no backup plan at the 11th hour if a focus group goes badly," Delaney wrote.
In 2014, Delaney was the third richest member of Congress, according to Roll Call's ranking of congressional wealth, with a net worth of at least $92 million. That means he could self-finance at least part of his bid.
But given that he's not a known quantity in politics, it would take a substantial amount of time and resources to become a top-tier player in the race.
Other well-known politicians on the left with a well-established following are also mulling Democratic bids, including Sen. Bernie Sanders (I-Vt.).
Delaney's announcement, however, is a sign that Democrats could face as crowded a primary as Republicans did in 2016, with 17 candidates vying for the spot Trump won.