The fight for the last abortion clinic in Kentucky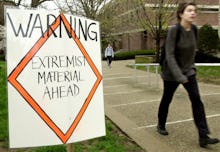 As part of its annually organized protest held in Wichita, Kansas, last year, the extreme right-wing, anti-choice activist group Operation Save America conducted a mock trial outside of the city's federal courthouse. They held cardboard caskets bearing the names of court cases that had received rulings that, in its members' opinions, went against God's law.
Calling themselves an "ecclesiastical court," one of the cases "on trial" by OSA was Roe v. Wade. According to OSA, the Roe ruling was nothing more than an act of "domestic terrorism in the womb." OSA's leader, Rev. Rusty Thomas, has said on the record that the Sept. 11 terrorist attacks were a punishment from God on the United States for legalizing abortion.
This year, OSA has turned its attention to Louisville, Kentucky, where it has descended upon the last remaining abortion clinic in the state, the EMW Women's Surgical Center. Their hope is that "the Lord [will] bless Kentucky by becoming the first abortion-free state in the nation."
As part of its week-long protest, OSA members present in Louisville have stood outside the clinic and said that women who receive abortions are guilty of murder, called abortion the "American Holocaust," and told one man entering the clinic with his partner that "men don't kill their babies." Protesters have taken photos of people entering the clinic, attempted to block city buses outside it, and erected tents to block the public sidewalk. They have, once again, tried to physically barricade the entrance with their bodies, preventing patients and providers from entering or exiting. At time of publishing, OSA did not reply to Mic's multiple requests for comment.
Kentucky has become ground zero in the fight against abortion access. The clinic is not only besieged with protesters trying to force its closure, but also a number of legal challenges intent on doing the same — a trend we are seeing in state laws throughout the country.
Kentucky already has several laws restricting abortion, including informed consent, a 24-hour waiting period and admitting privileges that require medically unnecessary paperwork for providers from local hospitals. In addition to already restrictive laws designed to force clinic closure and daily protesters hoping to encourage the same, the state's vehemently anti-choice governor who took office in 2015, Matt Bevin, has continued to encourage and sign laws designed to force EMW's closure — and effectively ban abortion in the state.
As a result of OSA's actions in May against the clinic, a federal judge granted a temporary restraining order against almost a dozen OSA activists in advance of the latest round of protests. Earlier this week, a federal judge ruled in favor of maintaining the TRO after OSA challenged it, claiming that it violates its First Amendment right to freedom of speech.
The TRO grants what ACLU Reproductive Freedom Project senior counsel Brigitte Amiri described to Mic as a "very, very modest" buffer zone ranging from the door to the entrance of the clinic to the public sidewalk, covering an area less than eight feet wide and 17 feet long.
Vicki Saporta, the president and CEO of the National Abortion Federation, said in a phone interview that already, the temporary buffer zone has been helpful in keeping the "peace and ensure that women can access the clinic," and that "clinic staff can access the clinic without threats and criminal activities."
Saporta said that while OSA was on its "best behavior" over the weekend because of the restraining order, it has, nonetheless, tried to "test the waters" by trying to enter the buffer zone when law enforcement isn't looking. Amiri explained that individuals may stand on either side of this buffer zone and exercise their First Amendment right in all areas outside of it.
She noted that because OSA members have already shown their intent to physically block the entrance to the clinic with their bodies, this component of their protests is not protected under the First Amendment, which protects speech not actions. And it is because of this, she said, that the court acted so quickly in issuing a temporary restraining order.
"We protect the First Amendment at the ACLU very vigorously," said Amiri. "The government shouldn't keep people off of a public sidewalk casually. But we have deep concern about what [OSA members] will do during their latest stay in Louisville."
In the meantime, Louisville's Metro Council is also considering whether to enact a permanent safety zone outside of the clinic, though no formal proposals have been introduced yet. Councilwoman Barbara Sexton Smith represents the Fourth Metro Council District, where the EMW Surgical Center is located. In a phone interview, she said that she is grappling with the challenge currently facing her district, "How do you take something like upholding freedom of speech and let people also receive health care in a safe environment?"
Sexton Smith said that the Metro Council has had a number of public conversations about the idea of introducing a permanent "safety zone" outside of the EMW Women's Surgical Center and noted that she believes the concept of safety zones should be talked about "in a much broader realm" than merely in the context of abortion. "You should be able to walk safely to the grocery store, through the parking lot of a gas station, in and out of school," she said.
But buffer and safety zones to protect clinic patients aren't the only political and legal issue that have brought EMW to court to open and keep abortion accessible in the state of Kentucky.
The main case involving the clinic right now involves a challenge to a state law regarding hospital transfer agreements that must be in place between abortion providers and hospitals. In March, the State of Kentucky sent a letter to the clinic that said there were deficiencies in its transfer agreement and that the clinic would be shut down in 10 days if these were not immediately corrected. The deficiencies in question? The wrong hospital administrator had signed off on the document.
"We challenged that as blatantly unconstitutional under the Whole Woman's Health ruling," Amiri said. "It's unconstitutional to require admitting privileges for no medical reasons, and we think we're squarely within that case. There is no medical justification [for these kinds of privileges]."
Another suit on behalf of the clinic involves a challenge to a state law requiring doctors who provide abortions to show women their ultrasound, describe it in detail and audibly play the heartbeat for the woman before being able to proceed with performing an abortion procedure of any kind. The ACLU has likewise claimed that such a law is unconstitutional, as challenges to similar "informed consent" laws in other states have been determined by the Fourth Circuit Court of Appeals to be a violation of physicians' First Amendment free speech rights.
While the fight to shut down the clinic escalates, so does the movement to keep it open. Rev. Millie Peters of Louisville is a member of Concerned Clergy for Choice and a board member of the Kentucky Religious Coalition for Reproductive Choice. In a phone interview, Peters spoke about the EMW Women's Surgical Center. "Conservative right religious groups that are well-organized and well-financed have been the dominating voice for a long time in Kentucky."
"It's time to start making our religious voice known, that there are pro-choice faith leaders and people of faith. These people out there right now say they have the right of free speech, and it's their religious freedom. But this is our free speech and our religious freedom, too, and we should be able to have safe and legal access to the clinic."
Carol Savkovich, the co-chair of the KRCRC and an escort at EMW Women's Surgical Center for the past five years, said she believes that in her state the pro-choice movement is strong, but what is troubling is the violence seen in the OSA protests.
"This is a group that openly talk about God's law being above man's law. [OSA] is very likely willing to break the law [while protesting] as they say it 'saves lives,'" she said, noting that the EMW clinic escorts have received special training in preparation for the OSA actions this last week, though she could not disclose any details.
"I think we're in a climate right now in this country where anti-abortion forces — whether politicians or those who would blockade a clinic — feel emboldened to obstruct women's access to abortion, to shame women, and to stigmatize abortion," Amiri said.
There have been 431 restrictions introduced by state legislatures since January alone. Within the first 100 days of his presidency, Donald Trump has expanded the "global gag rule"; undermined the federal Title Family Planning Program by rolling back Obama-era protections and allowing states to bar abortion providers from also serving as Title X providers; ended U.S. funding for the United Nations Population Fund; pushed for a (now dead) health care bill that defunds Planned Parenthood and strips women of access to affordable health care; and nominated Judge Neil Gorsuch, with his record of restricting women's access to reproductive health care, to the Supreme Court.
Kentucky, Amiri said, "is a microcosm for what is going on in the rest of the country." But Savkovich said she wants all those watching the protests to know Kentucky is fighting back. "We're determined not to be the first state with no abortion clinic."
Correction: Aug. 7, 2017