I test-drove the Tesla Model 3 — and this car could change the world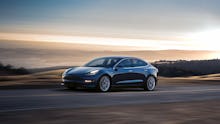 Fremont, Calif. — Elon Musk took the technology and auto world by storm on Friday night, as he released Tesla's first Model 3s, the company's much-anticipated mass-market sedan, at a handover event for employees. Like a knight in shining armor, Musk quite literally rode onto the stage in a Model 3, before unveiling the vehicles in front of thousands of euphoric employees at the company's Fremont factory.
This is a major milestone for Tesla — the culmination of over a decade of work and the last step in Musk's master plan to bring an affordable electric car to the masses. At a briefing with reporters earlier in the day, Musk summed it up bluntly, "If you're trying to make a difference in the world, then you have to make cars that people can afford. This is something we've been working for since the beginning of the company."
Take one walk around the company's sprawling grounds, and you can't help but get the sense that this may very well be a tipping point moment that could change the course of history.
Musk certainly wants you to believe so. The Tesla CEO is making a huge bet that consumers will flock to the Model 3's sleek design, first-in-class features and reasonable price point, starting at only $35,000. And so far, they have. Musk said his company has already received over 500,000 reservations for Model 3 vehicles and also noted that demand is so high, a customer who orders a car today won't receive one until the end of 2018.
By then, Musk has set the audacious goal of producing 500,000 cars, which would amount to more cars sold than the entire electric car industry combined in 2016.
That ambition is what has some observers already comparing the release of the Model 3 to that of the iPhone. The prominent Apple analyst and venture capitalist Gene Munster recently wrote, "We believe we will eventually look back at the launch of the Model 3 and compare it to the iPhone, which proved to be the catalyst for the shift to mobile computing."
I'm no car geek. But I did get a chance to test-drive the car, and I believe he may be right. The car is unlike any I've ever driven. It's beautifully designed, with a clean, simple and minimalist interior. It's also decked out with many of the features that Tesla has come to be known for, including autonomous technology, a top safety rating and the ability to accelerate to high speeds in a matter of seconds. Put simply, it's a vehicle you feel like you need to be in.
That's not to say the car is not without its challenges. Tesla's critics say Musk's ambitious growth targets for the Model 3 are unrealistic and also worry that competition is heating up in the electric car market, with traditional manufacturers like General Motors and BMW as well as newer entrants like Apple ramping up production.
Musk will also have to build out the number of Tesla superchargers, the company's network of high-powered chargers across the country, in order to keep up with demand and avoid overcrowding.
Musk openly acknowledged these concerns and noted that Tesla would be in "production hell" for months in order to avoid the execution challenges that have affected the company in the past. "We're doing everything we can to make cars as fast as we possibly can," he said. "Getting to 500,000 cars per year next year is very likely, but it's difficult to predict the exact numbers. There are factors beyond my control."
These challenges aside, there's something else which stands out when visiting Tesla's factory, which may be even more important than the car itself: Employees are oozing with pride. The spirit of American ingenuity and optimism are in the air. People who work for the company believe they are changing the world, and they're convinced their boss is the next Steve Jobs, or better yet, the next Albert Einstein.
And who could really blame them? Alongside the Model 3 launch, Musk is also gearing up for the maiden launch of SpaceX's Falcon Heavy rocket in November. He also recently announced that another one of his ambitious companies, The Boring Company, has begun tunneling under Los Angeles. Musk is taking risks in science and engineering that put him in a category of his own, and he's inspiring a new generation of scientists and entrepreneurs in the process.
The spirit of Tesla's workforce is made all the more refreshing by our current political reality. Earlier this year, Musk caused a stir when he quit President Donald Trump's business advisory panel after the president pulled out of the Paris climate agreement.
At a time when all eyes remain focused on the daily drama surrounding the White House, and the country is paralyzed by pessimism and partisanship, Musk embodies the kind of ambitious thinking and doing — thousands of miles away from Washington — that could actually serve to Make America Great Again.